Saskatchewan Artist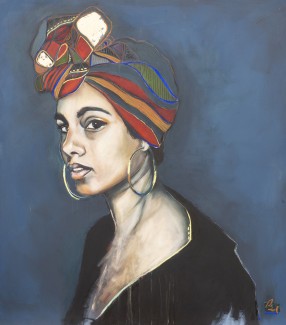 Alicia - 2016 - by Brand Hofer
Brandi Hofer
Brandi Hofer was born in Lloydminster, Saskatchewan in 1986. She studied at Red Deer College (Alberta) from 2004 to 2006 before transferring to the Nova Scotia College of Art & Design in Halifax, where she completed her Bachelor of Fine Arts in 2008.

Hofer has worked in several art media including drawing, printmaking, encaustic, and painting with acrylics. Hofer has long focused on female portraits and has explored themes of objectification, fetishism, the emotional self, and the female sexual psyche. Of her artistic practice, Hofer say, "My work and contemporary process is the by-product of my life experiences. My thought process revolves around colour, composition and the process of making the art. And in the immediacy of the moment my process describes my mood and perception of self. As a result the painting I am creating is the outcome of my subconscious."

Brandi Hofer has participated in residencies at Red Deer College (Alberta) and the Marnay Art Centre, in France, and was part of artist Robin Lambert's project "The only thing I know for sure is that while I am looking for you, you are looking for me", in Montreal, Quebec. She has also studied under Regina-born, London-based artist Andrew Salgado.
Hofer's work has been shown in solo and group exhibitions in Alberta, Saskatchewan, Nova Scotia, and Quebec, and has appeared in such publications as Create Magazine, Fashionista Magazine, British GQ, Pikchur Magazine, Swear by the Moon album cover, and The Errant Husband book cover. She was also featured in the 2019 documentary television series Making it in Saskatchewan.
Solo exhibitions include Assiniboia Gallery (Regina, Saskatchewan), Rouge Gallery (Saskatoon), Harris-Warke Gallery (Red Deer) and Hague Gallery (Regina).

Brandi Hofer lives and works in Lloydminster, Saskatchewan.
Brandi Hofer
Born:

1986. Lloydminster, SK

Resides:

Lloydminster, SK

Mediums:

Drawing, Encaustic, Murals, Oil Painting, Printmaking

Website: www.brandihofer.ca
Connect With Us