Saskatchewan Artist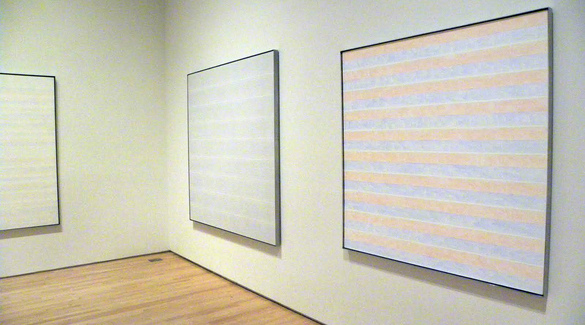 Installation view - San Francisco Museum of Modern Art 2010 - courtesy of Spencer Alley
Agnes Martin
Agnes Martin was born in 1912 in Macklin, Saskatchewan, and grew up in Vancouver, British Columbia. In 1932, she moved to the United States, living in Washington, where she studied at Western Washington State College and worked as a public school teacher. She later attended the Teachers College at Columbia University in New York, where she received a Bachelor of Arts in 1942 and a Master of Arts in 1952. During her studies, she taught at public schools in New Mexico and was a painting instructor there and in Oregon. In 1967, she moved to New Mexico.

Martin held her first solo exhibition in 1958 at New York's Betty Parsons Gallery. Working in oils, watercolours, acylics, and graphite, Martin created a body of abstract and landscape works that are distinguished by their subtle colour, geometric shapes, and grids and are credited with influencing the development of minimalist style in the United States.

Her works have been shown throughout the United States and Canada as well as in Holland, Italy, and Germany. In 2003, her 1966 painting "Leaves" sold at a New York auction for $2.5 million. Martin's work is represented in the collections of the Museum of Modern Art (New York), Guggenheim Museum (New York), Tate Gallery (London, England), Art Gallery of Ontario (Toronto), Neue Galerie in der Stadt Aachen (Germany), Australian National Gallery (Canberra), Art Institute of Chicago, New York University, Los Angeles County Museum of Art, and Yale University (New Haven, Connecticut), among many others.

Among the honours Martin has received include a grant from the National Endowment for the Arts (1966), an Honorary Doctorate of Fine Arts from New Mexico State University (1966), election to the American Academy and Institute of Arts and Letters (1989), a National Medal of Arts from the National Endowment for the Arts Lifetime Honors (1998), the Governor's Award for Excellent and Achievement in the Arts (New Mexico, 1998), the Lifetime Achievement Award of the Women's Caucus for Art of the College Art Association (2005), and numerous others.

In 1998, the Museum of Fine Arts in Santa Fe, New Mexico organized an exhibition of her work titled "Agnes Martin Works on Paper." Martin's work has been the subject of several other retrospective and special solo exhibitions, including those organized by the Menil Collection (Houston, 2002) and the Harwood Museum of Art (New Mexico, 2002). The latter institution is home to the Agnes Martin Gallery featuring her works from their permanent collection.

Agnes Martin passed away in Taos, New Mexico, in 2004.
Agnes Martin
Born:

1912. Macklin, SK

Died:

2004. Taos, New Mexico US

Mediums:

Oil Painting, Watercolour
Connect With Us