Saskatchewan Artist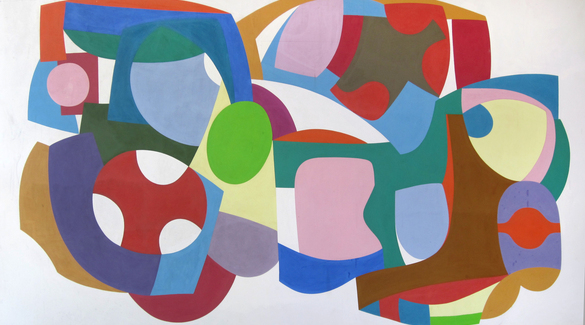 Continuum - 1967 - by Doug Morton - Regina Public Library collection
Doug Morton
Doug Morton was born in 1926 in Winnipeg, Manitoba. He began his art studies at the Winnipeg School of Art (1946), moving on to the University of Southern California in Los Angeles (1946-1948), the Academie Julian, L'Ecole des Beaux Arts in Paris (1949), and the Camberwell School of Art in London (1950-1951). Following Morton's return to Canada in 1954, his artistic training took place at the Emma Lake workshops (1957-1965). There, he studied with artists including Will Barnet, Barnett Newman, John Ferren, Herman Cherry, Clement Greenberg, Kenneth Noland, and Lawrence Alloway.

From 1954 to 1967 Morton worked as manager of the family business, MacKay-Morton Ltd., an industrial pipe distributor, while also helping to raise six children, and painting in the late evening and early morning.

As Morton's approach to painting developed he took a bold, unconventional approach to colour and material, experimenting with found objects and industrial paints. Kenneth Lochhead said that Morton "was pushing the frontiers of colour more than any other painter I knew."

In 1961, Morton's work was shown at the National Gallery as part of the "Five Painters From Regina" exhibition of abstract art, which included Morton, Ron Bloore, Ted Godwin, Ken Lochhead and Art McKay. The Regina Five, as they came to be known, went on to receive national acclaim.

In 1967, Morton left his family's industrial pipe business to pursue art and teaching full time, spending two years as director of Visual Arts at the University of Saskatchewan's Regina Campus. He then moved on to teach at York University (Toronto, 1969-1980), the University of Victoria, where he served as Dean of Fine Arts (1980-1985), and the Alberta College of Art (1985-1987).

A retrospective of Morton's work was organized by the Art Gallery of Greater Victoria in 1994. His work is represented in the collections of the Canada Council Art Bank (Ottawa), MacKenzie Art Gallery (Regina), Mendel Art Gallery (Saskatoon), National Gallery of Canada (Ottawa), Vancouver Art Gallery, Saskatchewan Arts Board, and many others.

Doug Morton died in 2004.
Doug Morton
Born:

1926. Winnipeg, MB

Died:

2004. Victoria, BC

Mediums:

Oil Painting
Connect With Us