Saskatchewan Artist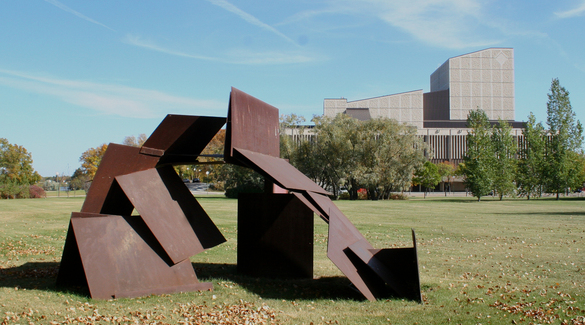 Four Seasons - 1981 - by Douglas Bentham
Douglas Bentham
Douglas Bentham was born in Rosetown, Saskatchewan in 1947, and his family moved to Saskatoon in 1959. Bentham later studied painting at Saskatoon's University of Saskatchewan, receiving his Bachelor of Fine Arts in 1969. He went on to study sculpture there, receiving his Master of Fine Arts in 1989.

Bentham was influenced by American sculptor David Smith and English sculptor Anthony Caro and sought to create innovative work that reflected his environment. Bentham wrote, "I'm influenced by landscape, by architecture, by urban spaces and, always, by light—by whatever can infuse an object with its own spirit." Before the 1980s, he used plate, sheet or rod steel in most of his work, later turning to metal, wood, and found objects.

Bentham's work has been a part of over 40 solo and 100 group exhibitions. His public commissions include sculptures for the National Science Library (Ottawa, 1973), the Government of Canada building (Calgary, 1981), Athabasca University (Athabasca, 1984), and Innovation Place (Saskatoon, 1989). His sculptures are represented in many collections, including the Canada Council Art Bank (Ottawa), Saskatchewan Arts Board (Regina), MacKenzie Art Gallery (Regina), Mendel Art Gallery (Saskatoon), Edmonton Art Gallery, University of Calgary, University of Saskatchewan, and Winnipeg Art Gallery.

Bentham has been a major contributor to the artistic communities of Saskatchewan and of Canada, participating in and co-leading Emma Lake Artists' Workshops and co-founding the Canadian Artists' Representation (now known as CARFAC). He was elected a member of the Royal Canadian Academy of Arts in 1976. He received the Lynch-Staunton Award from the Canada Council in 1981.

Bentham now lives and works in his studio on an acreage near Dundurn, Saskatchewan.
Douglas Bentham
Born:

1947. Rosetown, SK

Resides:

Dundurn, SK

Mediums:

Sculpture
Connect With Us