Saskatchewan Artist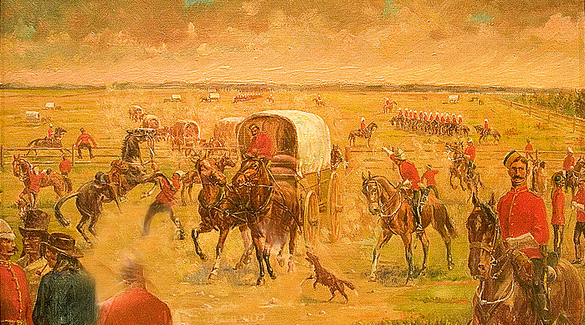 North West Mounted Police Leaving Fort Dufferin - painted before 1933 - by Richard Lindemere
Richard Lindemere
Richard Lindemere was born in 1880 in London, England. He attended Dover College in England and studied painting in Paris under James Walker (1896-1899). After five years of working in London on the Stock Exchange, Lindemere came to Saskatchewan in 1906, settling near Battleford. During those first years on the prairies, Lindemere held a variety of jobs, homesteading, ranching, and working as a sheriff's officer. His experiences provided much inspiration for his art, and in particular, his friendships with Aboriginal people led him to paint a series of portraits of the area's chiefs.

Lindemere's portraits and paintings of pioneer life are created in a representational style; Lindemere claimed that "[t]he modernist is … no friend of mine. I paint the thing as it is … not as a dream." His work had been included in a group exhibition in Paris in 1898, and his first solo exhibition was in 1929 at the Calgary Exhibition. Lindemere's work is found in the collections of the University of Saskatchewan, Barr Colony Heritage Cultural Centre (Lloydminster), North Battleford's City Hall, Fort Battleford National Historic Site, Government of Saskatchewan, Chapel Gallery (North Battleford), and Native Law Centre at the University of Saskatchewan. His paintings captured a perspective on the history of early settlement on the prairies, and they have appeared in several history books.

Richard Lindemere moved to British Columbia in 1945 and continued to paint, particularly portraits and horses. He passed away in Ladysmith, BC in 1956.
Richard Lindemere
Born:

1880. London, England GB

Died:

1956. Ladysmith, BC

Mediums:

Drawing, Oil Painting
Connect With Us