Saskatchewan Artist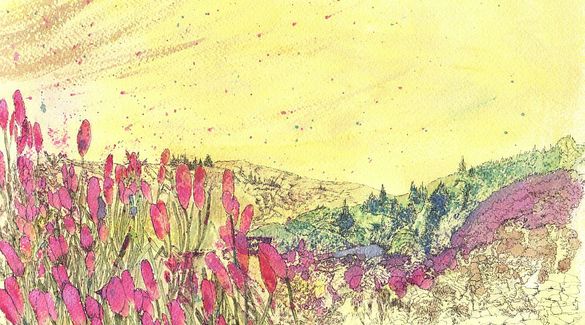 Grand Sweep - 2011 - by Sharon Eisbrenner
Sharon Eisbrenner
Sharon Eisbrenner was born in 1955 in Winnipeg, Manitoba. After receiving her Bachelor of Science in Computer Science from the University of Manitoba in 1976, she moved to Regina, Saskatchewan.

Eisbrenner worked in the computer science field for thirty years before pursuing a career as an artist. She has learned through classes and workshops in drawing with Degan Lindner (1982), watercolour with Larry Jackson (2007), acrylics with Holly Fay (2008), and landscape drawing with Donna Kriekle (2010). Eisbrenner also participated in CARFAC's mentorship program from 2009 to 2010 with Gerri Ann Siwek.

In her watercolour works, Eisbrenner is primarily interested in the potential of colour. As she writes, "The ability of colour to set mood, and invoke emotions and memories fascinates me. Even if the subject is imaginary, the feelings that colour can provoke are very real. My paintings start with powdered pigments applied in gestures that can seem random and chaotic. Afterwards, drawing with a pen, I explore the surface of the paper to find the underlying images and the spaces between them." Eisbrenner's work has been shown in Regina, where she held her first solo exhibition, "Imaginary Landscapes – First Foray" at the Art Gallery of Regina in 2011.

Eisbrenner is involved in Regina's local art community through organizations including CARFAC, the Art Gallery of Regina, and the Regina Artist Trading Card Collective. She has led workshops on creating artist trading cards, plastic fusing, image transfer, and watercolour backgrounds, sometimes in association with the MacKenzie Art Gallery (2009, 2010).

Sharon Eisbrenner continues to live and work in Regina, Saskatchewan.
Sharon Eisbrenner
Born:

1955. Winnipeg, MB

Resides:

Regina, SK

Mediums:

Drawing, Watercolour
Connect With Us