Saskatchewan Artist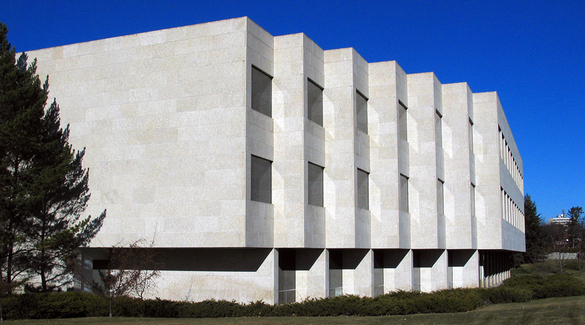 CBC Broadcast Centre - Regina - 1983 - by Clifford Wiens
Clifford Wiens
Clifford Wiens was born in 1926, near Glen Kerr, in southwestern Saskatchewan. He grew up on his family's farm, learning construction skills that would later prove useful in his career as an architect. After some studies in art in Banff, Alberta and in agriculture in Saskatoon, Saskatchewan, Wiens went to the United States to study at the Rhode Island School of Design. He received a Bachelor of Science in Architecture in 1954. Wiens then returned to Saskatchewan to work as an architect and created his own architecture firm in 1970. In addition to this work, Wiens served as visiting professor at the University of Manitoba (1968), the University of Calgary (1977) and the University of British Columbia (1985), and has lectured at the University of Saskatchewan (1966-1967) and at North Dakota State University (1970). In 1986, Wiens retired from his active architecture practice and moved to Vancouver, where he continued to work designing houses.

During his time as an active architect in Saskatchewan, Wiens created an exceptionally wide range of buildings, large and small, public and private, residential and commercial. From schools to churches, motels to apartments, Wiens' impressive collection of work is characterized by what the Saskatchewan Encyclopedia calls his trademark style, an incorporation of "innovative structural problem-solving, along with deft artistic composition of powerful, simple tectonic forms set against broad plains landscapes." Wiens' expressive and richly detailed works soon gained national attention.

Included in Wiens' body of work are St. Joseph's Roman Catholic Church in Whitewood, Saskatchewan (1959), the John Nugent Studio in Lumsden (1960), the University of Regina's Heating and Cooling Plant (1968), Nakusp Hot Springs Spa in British Columbia (1974), CBC Saskatchewan's Broadcast Centre in Regina (1983), Prince Albert City Hall (1984), and Camrose Lutheran College (1986), among many others.

Wiens has won several awards for his work, including three Massey Awards Silver Medals (1967, 1970), two National Design Council of Canada Awards (1967), and a City of Regina Heritage Award (1983). Wiens has been active in many professional organizations, including the Saskatchewan Association of Architects, in which he served as president in 1970, the Regina Chapter of Architects (1960-1969), in which he also served as president, and the Canadian Department of Public Works' Advisory Committee on Art for Public Buildings (1974-1981). Wiens is an Associate Member of the Royal Canadian Academy of Arts and a Fellow of the Royal Architectural Institute of Canada.

In 2005, the Mendel Art Gallery in Saskatoon organized a retrospective of Wiens's work. In 2007, Regina's MacKenzie Art Gallery exhibited over 170 items of Wiens's work, including photographs, architectural drawings, and models, in a show called "Telling Details: The Architecture of Clifford Wiens."

Wiens lives in Vancouver, British Columbia.
Clifford Wiens
Born:

1926. Glen Kerr, SK

Resides:

Vancouver, BC

Mediums:

Architecture
Connect With Us