Saskatchewan Artist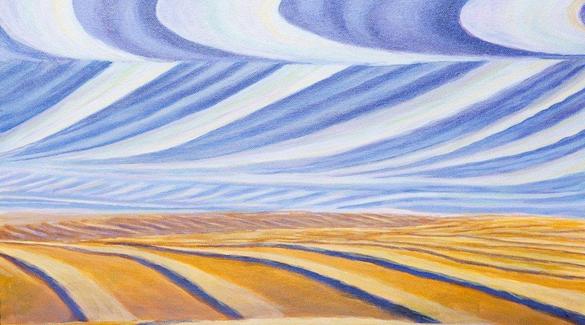 Harvest - 2010 - by Beryl Fournier
Beryl Fournier
Beryl Fournier was born in 1949, in Regina, Saskatchewan. She studied at the University of Regina and has taken classes from a variety of accomplished artists, including Eltje Degenhart, George Glenn, Beth Gaffney, Michael Lonechild, Leanne Dufour-Atchison, Michelle Reavley, Maxine Masterfield, Donna Kreikle, Val Moker, and Martha Cole. A teacher herself, Fournier has led art and other classes throughout Saskatchewan, including in Earl Grey, Glenavon, Indian Head, Kipling, and Regina.

Fournier works primarily in oils and also creates collages, mixed media works, and drawings. Her process is non-linear and somewhat spontaneous: "My work is a little unconventional in that I work from visions and daydreams. I am never quite sure where the painting will take me, which is scary, frustrating and exciting all at the same time. I use symbolism to give meaning to the work as I figure out what I am saying…sometimes I won't know until much after it is completed."

Fournier has exhibited her work at the Estevan National Art Gallery, in Estevan, Saskatchewan and has participated in numerous art shows, winning the OSAC provincial competition in 1998. Her work is represented in several private collections as well as that of SGI (Saskatchewan).

Beryl Fournier is a member of a number of associations in Saskatchewan, including the Aurora Art Guild, Art Gallery of Regina, Ellisboro Art Guild, and 4 Doors Arts Forum in Prince Albert. She lives and works in Glenavon, Saskatchewan.
Beryl Fournier
Born:

1949. Regina, SK

Resides:

Glenavon, SK

Mediums:

Collage, Drawing, Mixed Media, Oil Painting
Connect With Us