Saskatchewan Artist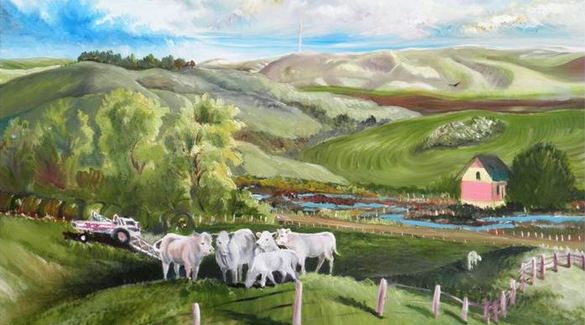 Grandpas Homestead - by William Philpott
William Philpott
William (Bill) Philpott was born in 1962 in Central Butte, Saskatchewan. He first studied at Alberta's Medicine Hat College, completing a diploma in Visual Communications in 1983. In 2002, he completed a two-year "Fundamentals of Art" certificate from the Art Instruction School, in Minneapolis, Minnesota.

Philpott's works capture the landscape of the prairies, particularly showcasing the unique beauty of southern Saskatchewan. As Philpott says, "I paint the rural area as I live in it today. I try to accentuate the power and colour of the windswept skies and prairies of southern Saskatchewan. I paint the landscape and I liberally flavour it with figures of and clues to the industry of those who live on and work the land." His works tend to incorporate a somewhat abstract technique; Philpott has explained: "I don't go after the fine details. I want to capture the mood, the character of a place."

Philpott's paintings have been shown through solo exhibitions in Moose Jaw and Morse and group exhibitions across the province. These include a 1985-1987 OSAC provincial touring exhibition with Vicki Helgeson and more recently, a group exhibition with the Swift Current Allied Arts Council (2010). He has also created large murals that have appeared in Kamloops, British Columbia (1986) and in Central Butte, Saskatchewan. Philpott's work is represented in the Medicine Hat College Collection as well as in many private collections.

Philpott has participated in numerous Saskatchewan art competitions, winning the OSAC Provincial Art Competition in Kindersley, Saskatchewan (1985) and the merit award at the Outlook regional OSAC adjudications, in Outlook, Saskatchewan (1999), among others. In 2002, he received a second place award at the Art Instruction School's Alumni Art Competition in Minneapolis, Minnesota.

Bill Philpott is a member of the Tugaske Regional Arts Association. He currently resides in Central Butte, Saskatchewan.
William Philpott
Born:

1962. Central Butte, SK

Resides:

Central Butte, SK

Mediums:

Oil Painting
Connect With Us