Saskatchewan Artist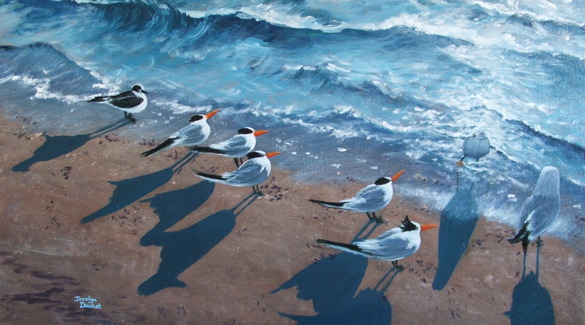 Evening Light - 2010 - by Jocelyn Duchek
Jocelyn Duchek
Jocelyn Duchek was born in Gravelbourg, Saskatchewan in 1960. She is largely a self-taught artist, taking part in informal studies and attending workshops in painting, printing, photography, drawing, and other media with numerous other artists. Duchek herself is an art instructor, leading painting classes for both children and adults. Though she has worked in painting on fabric, porcelain, ceramics, and leather, she now uses acrylics on canvas.

Duchek began exhibiting her work in 2004 and has participated in group exhibitions in several Saskatchewan cities as well as a solo show, "Saskatchewan Landscapes," in 2008 at Melville Community Works. Her landscape paintings take inspiration from her prairie upbringing and life, and she strives to paint on location when possible. Describing her interest in documenting the land, Duchek writes, "I feel a deep spiritual connection between my environment and my creativity and am driven to capture the connection between nature, light and spirit with my brush. I am passionate about showing off this magnificent country and am especially interested in capturing the magical lure of places that are untouched by humans."

Duchek has been involved with several organizations including the Saskatchewan Wildlife Art Association, Saskatchewan Craft Council, Esterhazy & District Arts Council, CARFAC Saskatchewan, and the Godfrey Dean Art Gallery.

Jocelyn Duchek lives in Esterhazy, Saskatchewan, where she has operated Jocelyn's Fine Art Gallery since 2008.
Jocelyn Duchek
Born:

1960. Gravelbourg, SK

Resides:

Esterhazy, SK

Mediums:

Oil Painting
Connect With Us