Saskatchewan Artist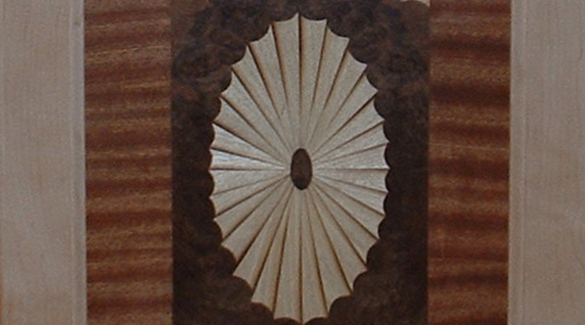 Traditional Oval Fan Inlay Door - 2009 - by Up Morelli
Up Morelli
Up Morelli was born in 1971 in Saskatoon, Saskatchewan. A self-taught wood artist, Morelli is influenced by artists such as Silas Kopf, Jackson Pollock, Pablo Picasso, and James Krenov.

Working from his studio in Saskatoon, Morelli's work includes wood portraits, marquetry and furniture. He writes, "I allow the wood itself to speak, to make suggestions about space, colour, shape, texture, etc. By working the wood by hand, I remain in intimate relationship with it and together we reach the final destination. I often work with subject matter that is inspired by my time spent living and working with, and learning from, Aboriginal peoples in Northern Saskatchewan. The relationship I have to the wood and to my pieces is itself a spiritual relationship."

Morelli has led workshops for the Saskatchewan Wood Guild and other organizations. In 2011, he participated in CARFAC Saskatchewan's Mentorship Program. Morelli has also been involved with the Saskatchewan Craft Council. His own work has been shown through the Saskatchewan Wood Guild, and is represented in many private collections.

Up Morelli lives and works in Saskatoon.
Up Morelli
Born:

1971. Saskatoon, SK

Resides:

Saskatoon, SK

Mediums:

Sculpture
Connect With Us