Saskatchewan Artist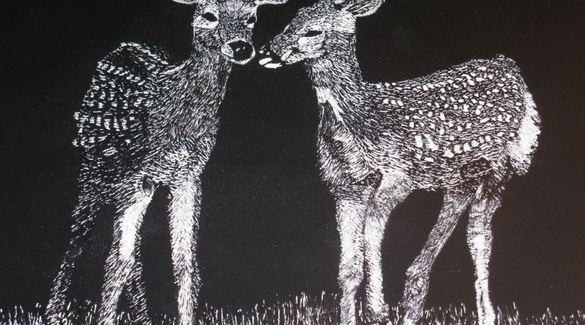 Brother and Sister - 2011 - by Michael Dornian
Michael Dornian
Michael Dornian was born in 1975 in Regina, Saskatchewan. He studied painting, printmaking, and art history there at the University of Regina, earning his Bachelor of Fine Arts in 2008. Dornian went on to study graphic arts production and graphics communications at the Saskatchewan Institute of Applied Science and Technology, beginning in 2009.

Dornian paints in oils, acrylics, and watercolour, but he also draws and uses scratchboard to create his images. Greatly influenced by his surroundings, Dornian's work reflects his love for the outdoors and nature, and as he explains, "references a place in Saskatchewan that is very special to me." Many of his finished works incorporate found materials. For example, 2004's "Whooper" made use of oil paint, modelling paste, feathers, sand, and cattail reeds on canvas.

Dornian's work has been exhibited in several group shows in Regina, including his BFA Graduating Exhibition at the MacKenzie Art Gallery (2006).

Michael Dorian is a member of the Prairie Artists Guild. He currently resides in Regina, Saskatchewan.
Michael Dornian
Born:

1975. Regina, SK

Resides:

Regina, SK

Mediums:

Drawing, Oil Painting, Watercolour
Connect With Us