Saskatchewan Artist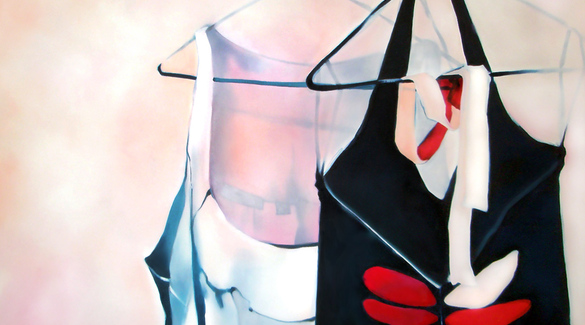 Opposites Attract - 2009 - by Terri Lemire
Terri Lemire
Terri Lemire was born in 1984 in Estevan, Saskatchewan, but grew up in Regina after moving there with her family at the age of one. She began drawing as a child and later studied painting, drawing, and printmaking at the University of Regina, receiving a Bachelor of Fine Arts in 2007. Among her instructors at the U of R was Jack Cowin, who taught Lemire printmaking. Currently, Lemire lives in Saskatoon, Saskatchewan.

Lemire draws and paints in watercolour and oils, often incorporating vibrant colour. She finds inspiration in a variety of places, including children's stories, daydreams, movies, comics, and the work of other artists including Marc Chagall, Aubrey Beardsley, Marcia Harris, and Yuka Yamaguchi. Among Lemire's recent work is a series of abstract paintings depicting the interior of her closet.

Lemire's work has been exhibited in several student exhibitions at the University of Regina's Fifth Parallel Gallery, a 2011 group show at the Mysteria gallery in Regina, and at galleries in Saskatoon and Winnipeg.

Terri Lemire was NAC Artist of the Month for August 2013, and several of her artworks are available for purchase via our online NACmarket.
Terri Lemire
Born:

1984. Estevan, SK

Resides:

Saskatoon, SK

Mediums:

Drawing, Mixed Media, Oil Painting, Watercolour

Website: www.terrilemire.ca
Connect With Us