Saskatchewan Artist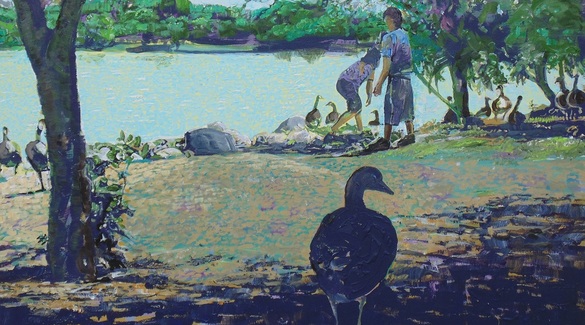 Gander Wascana - 2012 - by Jerry Jessop
Jerry Jessop
Jerry Jessop was born in 1947 in Ponteix, Saskatchewan. He began his university studies in Winnipeg at the University of Manitoba, studying with Ivan Eyre and George Swinton and completing his Bachelor of Arts in 1970. Jessop spent the summer of that year studying at Fort Wright College in Washington state and later came to Regina to complete his Master of Fine Arts at the University of Regina with Ted Godwin and Frank Nulf (1977).

Since serving as the City of Weyburn's "community artist" from 1970 to 1972, Jessop has held numerous art-related positions with school boards, universities, museums and galleries in Saskatchewan, Alberta, and British Columbia. A significant amount of time was spent in Moose Jaw, where Jessop worked with the Moose Jaw Art Museum (as Director/Curator), the Moose Jaw Heritage Society, and the Moose Jaw Arts Council. After a decade (1996-2006) in Kelowna as an art and Tai Chi Chuan instructor, Jessop returned to Saskatchewan.

Since he began painting, Jessop has been interested in the figure as well as landscape; his works often combine the two. Admiring the use of colour of the Post Impressionists, Jessop says, "I use colour in an intuitive way, imagining colour in the many tones of nature. In a somewhat automatic way of applying paint, I rely on randomness, spontaneity and accident to add to the viewers experience of the process in the work." Marie Leduc, writing in Artichoke magazine in 1977, picked up on the Impressionist influence: "Jessop's paintings are not only of land and figure, but images that make us question how we see. The fleeting, broken, almost abstract method of painting that Jessop employs recalls the visual experimentations of the Impressionists."

Jessop's work has been shown in group exhibitions across western Canada and has appeared in solo exhibitions in Manitoba, Saskatchewan, and Alberta. In addition to private collections, Jessop's work is in the collections of the Mendel Art Gallery (Saskatoon), Saskatchewan Arts Board, University of Regina, Moose Jaw Art Museum, Saskatchewan Government Insurance, and others.

Jerry Jessop lives in Buena Vista, Saskatchewan, with his partner, painter Margaret Jessop, where Jerry continues his art practice and teaches Tai Chi Chuan.
Jerry Jessop was named NAC Artist of the Month in October 2014, and we have an extended interview with him, and artworks available for purchase through Saskatchewan NAC.
Jerry Jessop
Born:

1947. Ponteix, SK

Resides:

Buena Vista, SK

Mediums:

Oil Painting, Watercolour

Website: http://jessop.ca
Connect With Us