Saskatchewan Artist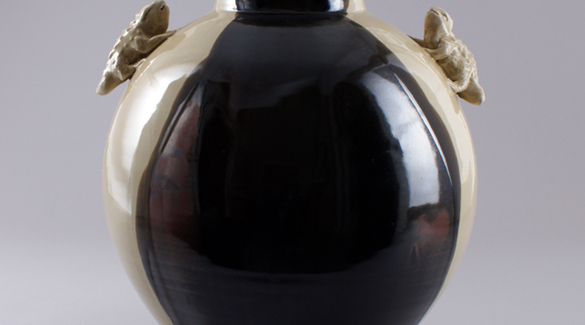 Untitled - jar - by Zach Dietrich
Zach Dietrich
Zach Dietrich was born in 1952 in Melville, Saskatchewan. He studied political science at the University of Regina, completing his Bachelor of Arts in 1974, but went on to pursue pottery after being influenced by artist Wendy Parsons. Dietrich took clay classes through the University of Regina's extension department, attended the Calgary Clay Symposium in 1974, and took workshops with Vic Cicansky and Jack Sures.

Dietrich's interest is wheel throwing, and he also enjoys developing glazes from local materials, wood firing, and kiln building. Influenced by artists such as Don Reitz and Jack Sures, Dietrich works in close collaboration with Wendy Parsons. Since the 1970s, Dietrich's work has been shown in group exhibitions across the province. He has received a Saskatchewan Arts Board grant and won the Best of Clay award at the Saskatchewan Craft Council's juried exhibition Dimensions in 1981. Dietrich's work is represented in the collections of the Saskatchewan Arts Board and the Moose Jaw Museum & Art Gallery.

A founding member of the Saskatchewan Craft Council, Dietrich has long been involved in the Saskatchewan arts community. He has served as a board member of SaskCulture and the Moose Jaw Museum & Art Gallery, and is a member of CARFAC and Sask Terra. Along with Wendy Parsons, Dietrich established a co-operative studio in Endeavour, Saskatchewan and built one of Saskatchewan's first high-temperature wood-fuelled kilns.

Zach Dietrich lives in Moose Jaw, Saskatchewan. He teaches workshops with many groups, including the Moose Jaw Pottery Club and the Regina Potters, and runs Parsons Dietrich Pottery with Wendy Parsons.
Zach Dietrich
Born:

1952. Melville, SK

Resides:

Moose Jaw, SK

Mediums:

Ceramics
Connect With Us