Saskatchewan Artist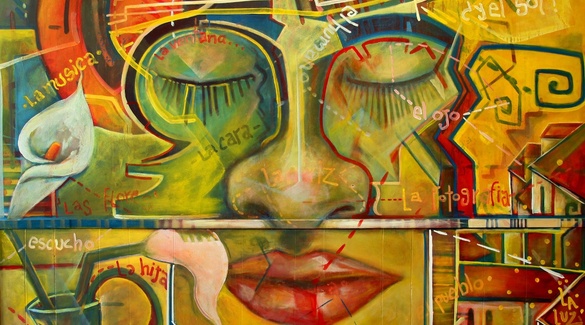 Untitled (mural in Regina) - by Roberto Lopez Lopez
Roberto López López
Roberto López López was born in 1977 in Guadalajara, Mexico, and was raised along with his 12 siblings in the small town of Palo Alto. Growing up in a large family with a father who worked as both a teacher and a rancher, López López was inspired by his hard-working parents.
Roberto López López came to Canada in the spring of 2000. The following winter, while waiting to receive his working visa, López López took up painting and discovered his passion for art. He was especially inspired by the Aztec and Mayan style and culture that he wanted to retain and better understand, despite living at a distance.
Since then Lopez Lopez has continued to produce abstract, landscape, portrait, and still life works, frequently using vibrant colour. Lopez Lopez also paints murals, both interior and exterior, and his commissioned works can be seen on many buildings, especially in Regina's North Central district.
López López's work has been exhibited in Regina at La Casa Maya , Abstractions Cafe, The Fainting Goat and La Bodega.
Roberto López López lives and paints in Regina.
Roberto López López
Born:

1977. Guadalajara, Jalisco MX

Resides:

Regina, SK

Mediums:

Acrylic, Murals
Connect With Us