Saskatchewan Artist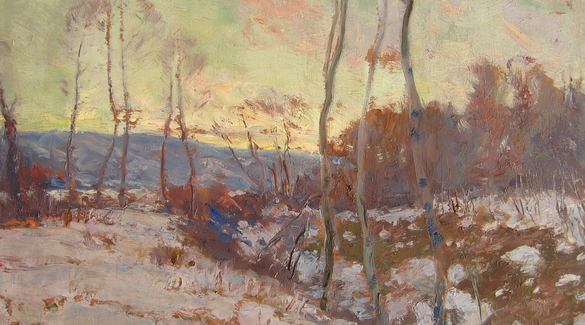 Winter Landscape - by James Henderson
James Henderson
James Henderson was born in 1871 in Glasgow, Scotland. He enjoyed sketching and drawing from an early age, and began an apprenticeship in lithography when he was 16 years old (1887-1894) while taking evening classes at the Glasgow School of Art. He worked in London as a commercial artist, lithographer, and engraver (1894-1909) and in 1910, immigrated to Canada. Henderson worked briefly as a lithographic artist in Winnipeg before moving to Regina, Saskatchewan and then to nearby Fort Qu'Appelle in 1916.

The picturesque Fort Qu'Appelle valley, as well as Henderson's trips through western Canada and Ontario, provided him with much inspiration for his oil and watercolour landscapes. Henderson is also known for his portraits of Cree, Sioux, Saulteaux, and Assiniboine people in Saskatchewan and Alberta. These portraits gained national and international recognition — a first for a Saskatchewan artist — and Henderson was also the first Saskatchewan artist who made his living from his art practice alone.

Henderson's work was exhibited mainly in Saskatoon and Regina, but also in Ontario at the National Gallery (1927, 1928, 1930, 1936), the Montreal Museum of Fine Arts (1931, 1932, 1936), and in Ontario, Alberta, Winnipeg, and London, England. He exhibited portraits at the British Empire Exhibitions at Wembley in 1924 and 1925, and with the Royal Canadian Academy in 1936.

Henderson's work is represented in the collections of the National Gallery of Canada (Ottawa), MacKenzie Art Gallery (Regina), Mendel Art Gallery (Saskatoon), Edmonton Art Gallery, Calgary Public Library, University of Saskatchewan, and Glenbow Museum (Calgary), among others.

Among the honours Henderson received was being named Honorary Chief at Fort Qu'Appelle's Standing Buffalo Reserve with the name Wiciteowapi Wicasa or "the man who paints the old men," and receiving an honorary degree from the University of Saskatchewan in 1951.

James Henderson died in Regina in 1951.