Saskatchewan Artist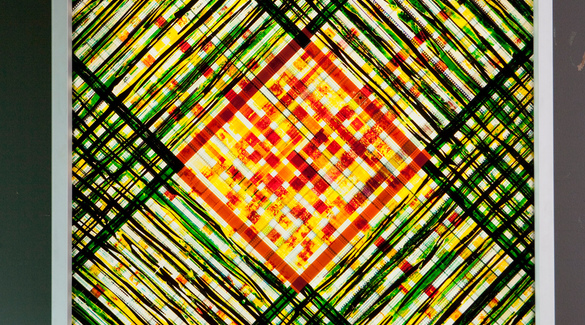 motion picture weaving - 2010 - by Richard Kerr
Richard Kerr
Richard Kerr was born in 1952 in St. Catherines, Ontario. He initially pursued a career in hockey before deciding to study photography at Sheridan College Institute of Technology and Advanced Learning (Oakville, Ontario), receiving a Media Arts Diploma in 1979. Kerr taught at the same institution and also worked at the Canadian Filmmakers' Distribution Centre, while organizing programs for the Kitchener-Waterloo Art Gallery (1983, 1984, 1986). In 1986, Kerr moved to Saskatchewan and became an Associate Professor at the University of Regina, where he remained until 1998.

Kerr is known for work in a number of media, including experimental film, video and installations. He also uses a light box and strips of film to create sculptural works that make use of a process Kerr calls "film weaving." Kerr's films and artworks reference social and political themes, and notions of nature, American culture, and Canadian identity. Take One's Essential Guide to Canadian Film notes that "Kerr's work is distinguished by its overt formalism, always referring to the medium and its attendant properties. Eschewing the more personal focus of his contemporaries, Kerr instead evokes social and political realities."

Kerr's work has been shown throughout the world. In 1992, the MacKenzie Art Gallery organized a retrospective of his films, presented along with an major exhibition of his film weaving.

During his time in Saskatchewan, Kerr organized programs for the MacKenzie Art Gallery (1991) and was involved in the provincial government's Arts Strategy Task Force (1989-1990).

Richard Kerr lives in Montreal and teaches at Concordia University.
Richard Kerr
Born:

1952. St. Catherines, ON

Resides:

Montreal, QC

Mediums:

Digital, Installations, Photography
Connect With Us