Saskatchewan Artist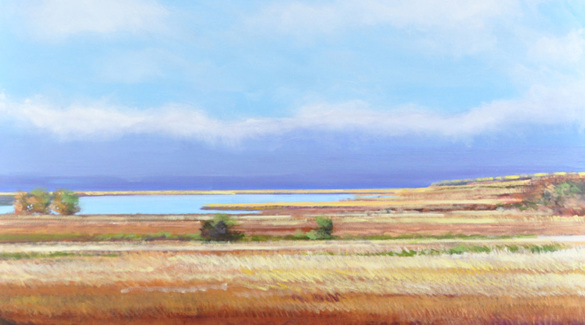 Heading North 5 pm - 2014 - by Eltje Degenhart
Eltje Degenhart
Eltje Degenhart was born in Holland in 1946. He moved with his family to Canada in 1951, settling in Weyburn, Saskatchewan. As a child, Degenhart showed interest in art, and eventually he studied art at the Alberta College of Art and the University of Regina. At the latter institution, he studied under Ted Godwin, Art McKay, and Joe Fafard as he earned a degree in Art Education (1972).
Degenhart taught art at Weyburn Comprehensive School for 27 years.
Degenhart's paintings focus on the landscapes and people of the prairies. He is particularly inspired by the dramatic skies and fields near his home: "My primary source of inspiration is the southeastern area of Saskatchewan, which constantly provides an endless selection of subject matter. The changing seasons, and the varied terrain are a source of subtle and profound wonder."
Degenhart retired from teaching in 2001 to paint full time. He spends his summers in the Moose Mountains in Saskatchewan, and his winters in Saskatoon, and is currently exploring combining his painting with photography.