Saskatchewan Artist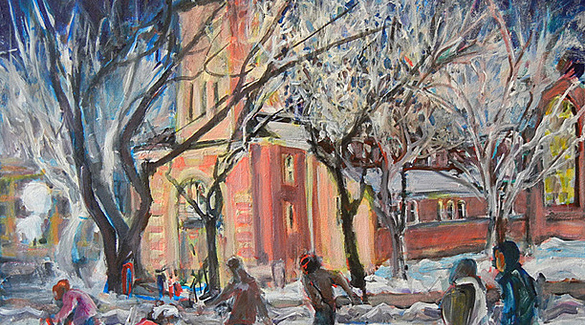 Night Time Magic - by Inger DeCoursey
Inger DeCoursey
Inger DeCoursey was born in Camrose, Alberta in 1931. She lived in rural Alberta during her early childhood, drawing farm animals with the encouragement of her grade one teacher. She lived in the town of Wetaskiwin, Alberta during high school.

DeCoursey completed a Bachelor of Education at the University of Alberta in 1956. Following several years teaching in Alberta, she went to the University of Saskatchewan in Saskatoon to earn a Bachelor of Fine Arts degree in 1982.

There, DeCoursey began to paint scenes from of life in Saskatoon. On her process, she said in 1997, "As I move my easel around our city I feel a part of the total community. I offer my contribution just like everyone else. I do many watercolour sketches, finally zeroing in on some theme that I have found particularly interesting. These larger compositions are created over a longer period of time. To some I return again and again; I gain new insights...every painting is only a part of a continuous process stretching to life's end."

DeCoursey's work is represented in the collections of the Government of Saskatchewan (Regina), the City of Saskatoon, the Saskatoon Board of Education, and the Saskatoon Club.

Inger DeCoursey lives and paints in Saskatoon, Saskatchewan.