Saskatchewan Artist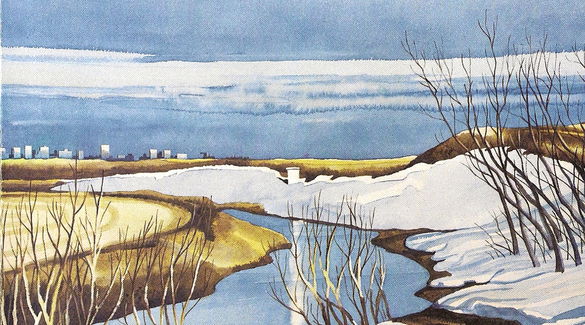 Last of Winter - 1978 - by Alfred William Davey
Alfred William Davey
Alfred William Davey (known as A.W. Davey) was born in Countesthorpe, England, in 1907. He came to Canada in 1920 and to Saskatchewan the following year. He studied art at the University of Saskatchewan's Regina Campus under Augustus Kenderdine and spent time in Winnipeg at the Winnipeg School of Art, studying with Lionel LeMoine FitzGerald (1926-1928). Returning to Saskatchewan, Davey attended Saskatoon Technical School with Ernest Lindner (1930-1932).

Davey worked designing tools and illustrating manuals for the British Admiralty during World War II. After the war, in addition to serving as commercial art director for the Department of Industry and Information of the Saskatchewan Government (1945-1964), Davey frequently worked as an art instructor for institutions including the University of Saskatchewan, the University of Regina, Coteau Range Community College in Moose Jaw, and Regina Plains Community College.

Davey's drawings, as well as his paintings in watercolour, oils, and acrylics, were shown in numerous exhibitions in Saskatchewan. Often focusing on historical scenes, Davey received frequent commissions for his work, including from the University of Saskatchewan, which commissioned a pictorial historical map of the province in 1955. Davey's work is represented in collections including the Saskatchewan Arts Board, University of Regina, University of Saskatchewan, Government of Saskatchewan, and the University of Manitoba, among others.

Davey was an active member of Saskatchewan's art community as founder of the Western Canadian Art Circuit, president of the Saskatoon Sketch Club (1934-1935) and of the Federation of Canadian Artists' Regina Branch (1945-1947). In 1959, he represented Saskatchewan at the 4th Communications Conference of the Art Directors' Club of New York.

A.W. Davey died in 1986 in Regina.
Alfred William Davey
Born:

1907. Countesthorpe, England GB

Died:

1986. Regina, SK

Mediums:

Drawing, Oil Painting, Watercolour
Connect With Us