Saskatchewan Artist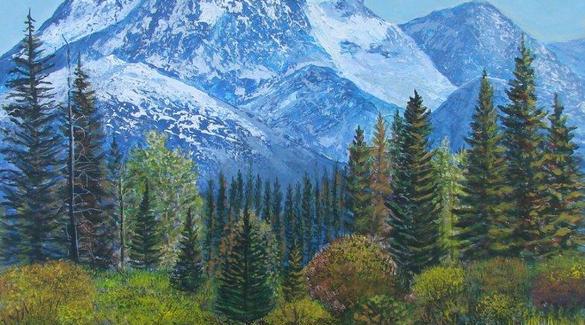 Alaska Landscape - by Reggie Sabiston
Regina Sabiston
Regina (Reggie) Sabiston was born in 1955 in Regina, Saskatchewan. She studied art history and art education at the University of Regina (1974) and at the age of 21 began teaching elementary school in small-town Saskatchewan. After six years of full-time teaching, Sabiston switched to substitute teaching while raising her two children. From 1987 to 1995, while continuing her education, Sabiston completed several acrylic painting classes at the University of Saskatchewan, and it was in 2004, after her children had graduated from high school, that Sabiston decided to devote herself to painting fulltime.
Sabiston finds her inspiration in many sources, including from children and animals and by reading books and observing what she sees in nature. She is drawn to realism and miniatures, usually working in acrylics, and only occasionally in watercolours. Sabiston's subjects include portraits, still lifes, florals, pets, and landscape. Sabiston has won two adjudications in Wadena, Saskatchewan (2008 and 2009) and is a member of the Qu'Appelle Valley Art Guild, the Regina Federation of Artists and the Canadian Federation of Artists. Her paintings are part of private collections in Canada and the USA.

In 2009, Sabiston had the opportunity to paint at Glacier National Park with other prominent artists, including Ned Mueller, Mehdi Fallahian, Jennie Mackenzie and Susan Faust. Most recently, she has taken workshops from Doug Purdon, Eltje Degenhart, Anne Packham, Carl Schlademan, and Ward Shell.

Sabiston has taught art classes in Fort Qu'Appelle and has volunteered as a junior high instructor in Wishart, Saskatchewan.

Regina Sabiston currently resides in Wynyard, Saskatchewan.
Regina Sabiston
Born:

1955. Regina, SK

Resides:

Wynyard, SK

Mediums:

Oil Painting, Photography, Watercolour
Connect With Us