Saskatchewan Artist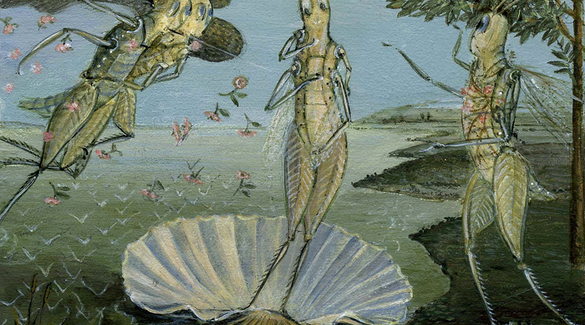 Rebirth of Venus - 2012 - by Donna Kriekle
Donna Kriekle
Donna Kriekle was born in 1945 in Southey, Saskatchewan. She studied at the University of Regina with Arthur McKay, Ted Godwin, and Doug Morton, receiving her Bachelor of Arts in 1969, and took further art classes at Concordia University in Montreal (1970). Kriekle lived in Montreal until 1979, when she returned to Saskatchewan and began teaching. Kriekle has taught painting across Saskatchewan, including at the University of Regina's Extension Division (1980-1989) and through the MacKenzie Art Gallery's Outreach Program (1984-1985).

Kriekle's works have been exhibited in group and solo exhibitions since the 1970s. She has worked in a variety of mediums, from oils and acrylics to watercolour, lithography, and drawing. Kriekle has also been pursuing video-based work and has taken a number of workshops on video creation and editing.

In reflecting on her appreciation of art history, Kriekle wrote in 1985: "The study of art history taught me to look in all directions, locally to internationally, past to present to future. I regularly embark upon directed and undirected studies — explorations into the ways in which we see and create. My images contain these explorations."

Collections in which Kriekle's work can be found include the Canada Council Art Bank (Ottawa), Saskatchewan Arts Board, MacKenzie Art Gallery (Regina), Canadian Broadcasting Corporation (Regina), University of Saskatchewan, City of Regina, and the Saskatchewan Museum of Natural History (Regina).

Donna Kriekle lives in Regina, Saskatchewan.
Donna Kriekle
Born:

1945. Southey, SK

Resides:

Regina, SK

Mediums:

Drawing, Installations, Oil Painting, Printmaking, Watercolour

Galleries: Nouveau Gallery (Regina)
Connect With Us