Saskatchewan Artist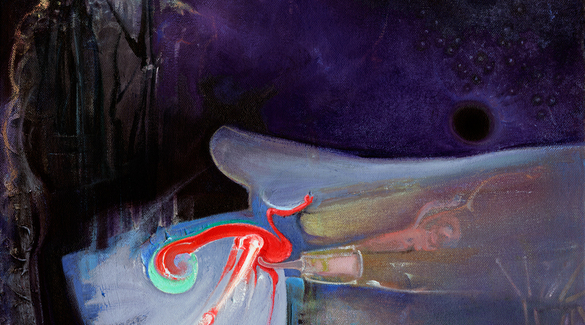 Rend - 2010 - by Brian Wood
Brian Wood
Brian Wood was born in 1948 in Saskatoon, Saskatchewan, and grew up on a farm near Brancepeth. He studied math, physics, and literature at the University of Saskatchewan, receiving his Bachelor of Arts in 1969. After several years of traveling and working in Europe, where he exhibited prints in London, Wood then went to New York City and completed his Master of Arts in Studio Art at Hunter College in 1975. Influenced by digital artist Holis Frampton and filmmaker and composer Michael Snow, Wood became interested in a variety of media.

Initially a painter, Wood also works in photography, drawing, and multimedia. He has exhibited his work in Canada, the United States, the Czech Republic, Italy, France, and England, in numerous solo and group exhibitions. His first solo exhibition of photographs was in Canada, at Montreal's Galerie Marielle Mailhot in 1979. New York's Museum of Modern Art played an important role in showing Wood's work, as some of his photographs have been a part of the museum's collection since the late 70s and have frequently appeared in its exhibitions and books.

Wood's work explores the notion of consciousness, memory, and perception. Wood chooses a medium — and sometimes combines them through collage — to, as he writes in an artist statement, "both stimulate and respond to various states of mind and multiple levels of thought."

Wood's artworks are in many important collections, including the National Gallery of Canada (Ottawa), Mendel Art Gallery (Saskatoon), Brooklyn Museum (New York), Canadian Museum of Contemporary Photography (Ottawa), Concordia Art Gallery (Montreal), Metropolitan Museum of Art (New York), Museum of Decorative Arts (Prague, Czech Republic), Museum of Modern Art (New York), Los Angeles County Museum of Art, New York Public Library, and Tampa Museum of Art.

Wood has received numerous awards and grants, including Canada Council grants, a Fellowship Grant from the National Endowment for the Arts in Washington, D.C. (1984), the John Simon Guggenheim Foundation Fellowship for printmaking and photography, the New York Foundation for the Arts Grant, and the Woodrow Wilson Fellowship.

Wood has worked as an art instructor at the Pratt Institute, New York University's Internship Program, Fordham University, and Yale University in New Haven, Connecticut.

Brian Wood currently lives in New York City, where he teaches at Hunter College.
Brian Wood
Born:

1948. Saskatoon, SK

Resides:

New York City, New York US

Mediums:

Drawing, Oil Painting, Photography, Printmaking

Website: brianwoodstudio.com
Connect With Us