Saskatchewan Artist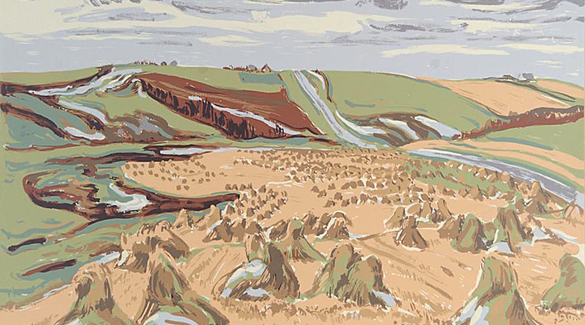 Late Harvest - 1950 - by Ruth Pawson
Ruth Pawson
Ruth Pawson was born in Stratford, Ontario in 1908, and moved to Regina, Saskatchewan in 1912. Her interest in art began early when as a child she was fascinated by her grandfather's watercolour paintings of ancient Greek myths.

Pawson received a teacher's certificate from the Regina Normal School in 1927, and taught for ten years before she was able to afford art classes. While still a devoted teacher, Pawson studied art and art history at the University of Regina under Augustus Kenderdine and Gordon Snelgrove, graduating in 1940 before attended the Murray Point Summer School of Art at Emma Lake in 1941, 1942, and 1946, and studying at the Banff School of Fine Arts in 1944, 1945, and 1947 under A.Y. Jackson.

Pawson's training, especially that at Emma Lake, encouraged her interest in the prairie landscape as a subject and in painting outdoors as a practice. When she was much older and found that sitting on a stool outside was difficult, she instead painted while sitting in the back seat of her Volkswagen. Pawson said, "I am a landscape painter trying to capture the essence of the Saskatchewan prairie. Something must turn an artist on – for me it is the vast space, the great dome of sky, and the quality of luminous light over all."

Pawson's work has been exhibited in many group shows as well as a solo show at the Dunlop Art Gallery in Regina, a retrospective in 1990.

Other than two years spent teaching in Germany with the Canada Department of National Defence (1960-1962), Pawson spent her life in Regina. She retired from teaching in 1965 to paint full-time, but continued to be involved in the school system. In 1976, a public school in Regina was named Ruth Pawson Elementary School in recognition of Pawson's contributions to education and art.

In 1993, Pawson received the Saskatchewan Arts Board's Lifetime Award for Excellence in the Arts, and in that same year, she was awarded the Saskatchewan Order of Merit.

Ruth Pawson died in 1994 at the age of eighty-six.
Ruth Pawson
Born:

1908. Stratford, ON

Died:

1994.

Mediums:

Oil Painting, Printmaking
Connect With Us