Saskatchewan Artist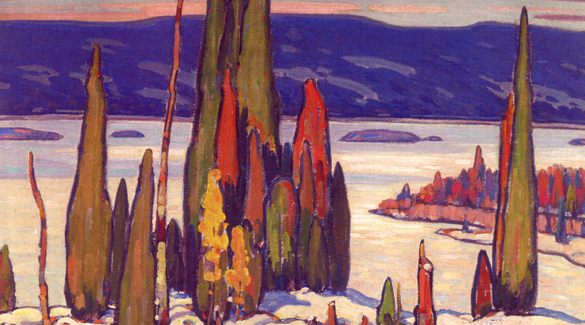 Frozen Lake - 1931 - by Fred Loveroff
Fred Loveroff
Fred Loveroff (nee Postnikoff) was born in Tbilisi, Georgia, in 1894. He moved to Saskatchewan in 1900 with his father, who was Doukhobor, homesteading near Saskatoon. Life on the farm was often lonely and isolated, and during the winters, Loveroff began painting to keep himself busy. In 1917, he enrolled in Toronto's Central Ontario School of Art, studying under such artists as George R. Reid, John W. Beatty, William K. Cruikshank, and J.E.H MacDonald (of the Group of Seven).

Loveroff was elected to the Royal Canadian Academy of Arts in 1920, and was also active in the Ontario Society of Artists. He exhibited his work — oil and watercolour landscapes of farm and urban scenes — extensively in Toronto, as well as in Saskatchewan. In 1927, his work was part of group exhibitions at the Imperial Gallery of Art in London, England and at the Musée du Jeu de Paume in Paris, France,

Loveroff's work is represented in collections including the National Gallery of Canada (Ottawa), Mendel Art Gallery (Saskatoon), MacKenzie Art Gallery (Regina), University of Saskatchewan, Art Gallery of Ontario, Art Gallery of Hamilton, Leicestershire Museums and Art Galleries (England), Glenbow Museum (Calgary, and Memorial Art Gallery (Saskatoon).

Loveroff abandoned painting in 1934 when the Depression caused a significant downturn in the art market. He moved to California to become a farmer, and it is believe he never painted again.

Fred Loveroff died in Redwood, California, in 1960.
Fred Loveroff
Born:

1894.

Mediums:

Drawing, Oil Painting, Watercolour
Connect With Us