Saskatchewan Artist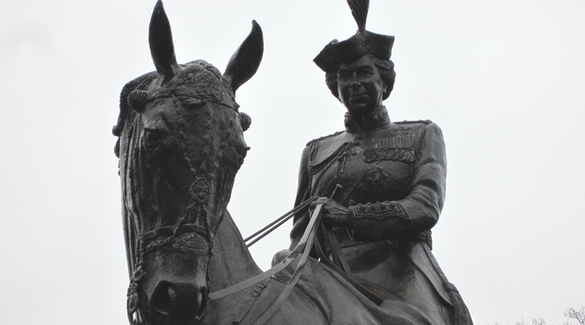 Queen Elizabeth II and Burmese - 2005 - by Susan Velder - located at Saskatchewan Legislature
Susan Velder
Susan Velder, born in 1939, received her training at the Alberta College of Art in Calgary, Alberta, graduating in 1977. She later received a diploma in art education from the University of Calgary and left Alberta to move to Saskatchewan in 1986.

Velder's work has been exhibited in solo and group shows and is part of numerous corporate and private collections. She has completed numerous public sculptures in materials including bronze, concrete, and steel. Works of note include "Emergence," on the grounds of the Alberta College of Art (1977), a life-size bronze statue of artist Berthold Von Imhoff (1998) in St. Walburg, Saskatchewan, a bronze bust of former Saskatchewan premier Tommy Douglas for the Saskatchewan Legislature, and a statue of Queen Elizabeth riding her favourite horse Burmese, installed outside the Saskatchewan Legislature and unveiled by the Queen herself in 2005.

Susan Velder lives in St. Walburg, Saskatchewan, and works from her studio there.
Susan Velder
Born:

1939.

Resides:

St. Walburg, SK

Mediums:

Sculpture
Connect With Us