Saskatchewan Artist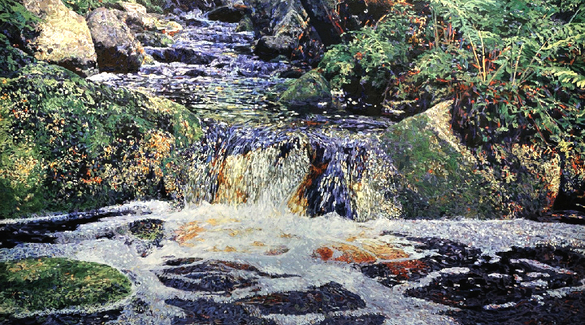 Cascade in Gold - by Graham Fowler
Graham Fowler
Graham Fowler was born in Halifax, Nova Scotia, in 1952. He studied at the Nova Scotia College of Art and Design, earning his Bachelor of Fine Arts in 1975. He went on study to Concordia University in Montreal, receiving his Master of Fine Arts in 1980, and at McGill University (Montreal), where he earned his Diploma in Education in 1982. He began teaching visual arts at Keyano College in Fort McMurray, Alberta, that same year. In 1989, Fowler began teaching at the University of Saskatchewan in Saskatoon.

Since 1978, Fowler has been exhibiting his paintings in solo and group shows across Canada and in the United States. In 2002 the Mendel Art Gallery (Saskatoon) held a major solo exhibition, Graham Fowler: The Water Paintings, and in 2008 Fowler and his wife, painter Catherine Perehudoff Fowler, were featured in a two-person exhibition at The Gallery in London, England.
Graham Fowler's work is represented in several important collections, including the Art Gallery of Nova Scotia (Halifax), Alberta Art Foundation, University of Saskatchewan (Saskatoon), University of Lethbridge, Kamloops Art Gallery and the Hudson Bay Corporation Collection.

Fowler's work has shifted from the more abstract to the representational over his career. Fowler draws on natural themes to create highly detailed images of forests, gardens, and other natural landscapes. He explains the inspiration he finds in this subject matter: "As human beings, we are the products of our past, and thus our learned history, and when we experience nature through our constructed biases, we cannot escape these. In my work, in regards to my experience of nature, there is a paradox. In the suburbs of Halifax, where I grew up, there were streams and lakes, and quite literally I could walk into the forest, and I did. And so it is almost like I keep returning to a childhood Arcadia, which is probably part of my attraction to water and light. On the other hand, that is a side of me I've left behind, and I can get very uncomfortable in nature, and can find it overpowering. When I present these natural images in my painting, I'm trying to bring order to that overwhelming chaos."

Graham Fowler lives in Saskatoon, teaching at the University of Saskatchewan, and is married to painter Catherine Perehudoff Fowler.