Saskatchewan Artist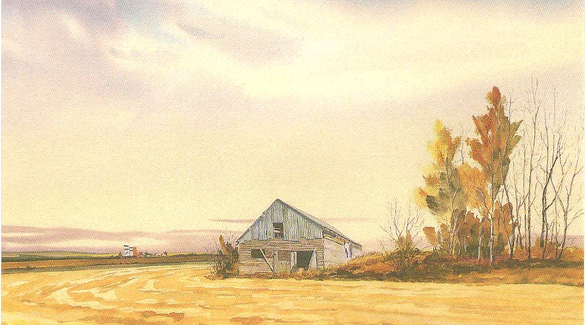 Prairie Pageant - by Cecil E. James
Cecil E. James
Cecil E. James was born in 1907 in Manchester, England. He immigrated to Canada with his family in 1914, settling in Saskatoon. He took art courses at the University of Saskatchewan under Augustus Kenderdine in the late 1920s, but was largely a self-taught painter.
James was involved in art dealing in Saskatoon, co-founding Cecil's Sign Shop in 1933 and owning and operating James Art Studio, a gallery and framing shop, from 1945 to 1973. He left the province for a short period when he was stationed with the Royal Canadian Navy in Halifax during World War II.
James retired in 1973 and focused on painting. He moved to Surrey, British Columbia in 1975, but returned often to the prairies to paint, including a series painted in the early 1980s entitled Prairie Pageant.
Working with oils and watercolours, James is best known for his landscape paintings that depict scenes from across Canada and especially the prairies. His work has been exhibited across western Canada since 1950.
James' work is represented in the collections of the Saskatchewan Arts Board, Canada House (London, England), University of Saskatchewan, Saskatchewan Wheat Pool, Nutana Collegiate Memorial Art Gallery (Saskatoon), Mendel Art Gallery (Saskatoon), and Saskatchewan Power Corporation.
Cecil E. James died in Surrey, BC, in 1996, at the age of 88.
Cecil E. James
Born:

1907. Manchester, England GB

Died:

1996. Surrey, BC

Mediums:

Oil Painting, Watercolour
Connect With Us