Saskatchewan Artist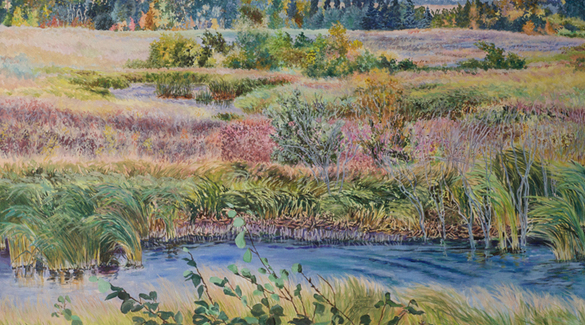 Protected Prairie Grasses - 2009 - by Catherine Perehudoff Fowler
Catherine Perehudoff Fowler
Catherine Perehudoff Fowler was born into a well-known artistic family in 1958 in Saskatoon, Saskatchewan; her parents, Dorothy Knowles and William Perehudoff, are both painters, as is her older sister Rebecca Perehudoff. Catherine Perehudoff Fowler studied painting, weaving, and folk art at the Voss Folkschool in Norway (1976-1977), and received a Bachelor of Arts degree from the University of Saskatchewan, in Saskatoon (1977-1981). Since 1979, Perehudoff Fowler has also participated in artist workshops at Emma Lake, Saskatchewan, and has worked alongside such artists as Reta Cowley and Barbara Ballachey.

Perehudoff Fowler's landscape paintings, depicting scenes from the prairies, mountains, and northern lakes and woods, have been exhibited in more than fifty solo and group shows in Canada, the United States, England, and Norway. Her work is represented in many important collections, including the Canada Council Art Bank (Ottawa), Mendel Art Gallery (Saskatoon), Alberta Foundation for the Arts, Art Gallery of Alberta (Edmonton), Kamloops Art Gallery, Saskatchewan Arts Board, and the Canadian Embassies of Tokyo and Buenos Aires. She is also represented by several commercial art galleries in Canada and in England.

Catherine Perehudoff Fowler lives in Saskatoon, Saskatchewan, and is married to artist Graham Fowler.
Catherine Perehudoff Fowler
Connect With Us