Saskatchewan Artist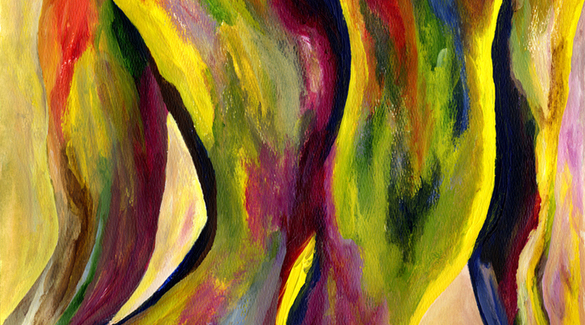 And All That Jazz - 2011 - by Jeannette Lussier
Jeannette Lussier
Jeannette Lussier was born in 1963 in Prince Albert, Saskatchewan. She has studied art over many years, beginning with correspondence classes with the Minneapolis Art Instruction School in 1979. From 2001 to 2004, Lussier attended courses and workshops in Saskatoon through the University of Saskatchewan's Art Extension Program. There, Lussier received instruction from artists including Alicia Popoff, Degen Lindner, and Catherine Perehudoff.

In addition to sculpture and ceramic tile work, Lussier paints in oils and acrylics, creating landscape, abstract, still life, nudes, and portrait work. While most of her works incorporate recognizable figures and imagery, the abstract element lends a vibrant and surreal quality to the works. On her process, Lussier says, "I don't want to just paint what I see; I want to incorporate messages of celebration."

Lussier's work has been exhibited throughout Saskatchewan, including at festivals and art fairs in Regina and Saskatoon. Most recently, her work has appeared at Black Spruce Gallery in Christopher Lake (2011).She has received numerous commissions for her work, including a piece called "4 Strength and for Courage," for the CIBC Alberta/Saskatchewan Centennial mural in Lloydminster (2005), dedicated to four RCMP officers who lost their lives on duty. Lussier has created logos for "Sisters in Solidary" (Canadian Labour Congress, 2005) and the Saskatchewan Federation of Labour's International Women's Day celebration (2010). Her 2006 work "Red Willow" is in the collection of Saskatoon's Department of Community Resources.

In 2004 and 2005, Lussier won awards at the Saskatoon Exhibition Fine Art Competition.

In 2008, Lussier served as Artist in Residence at the Wallace Stegner House in East End, Saskatchewan. From 2006 to 2010, Lussier was a Cultural Art Instructor at Saskatoon's Red Willow Center. Today, she teaches out of her home and through the Martensville Community Centre.

Jeannette Lussier lives and works in Martensville, Saskatchewan.