Saskatchewan Artist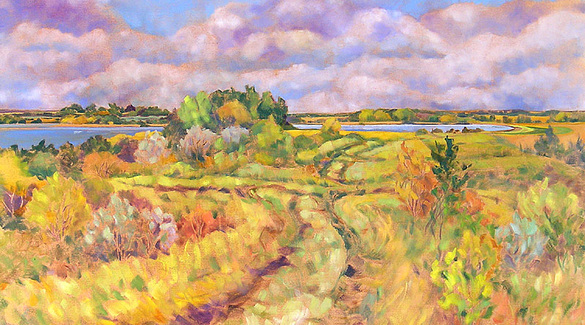 Road to Lake Lenore - 2007 - by Lorna Russell
Lorna Russell
Lorna Russell (earlier known as Lorna Cutting) was born in Saskatoon, Saskatchewan in 1933. She studied science at the University of Saskatchewan, completing her Bachelor of Science in 1956. She went on to earn a teaching certificate from the same institution in 1968 and has taught art in elementary and high schools and served as an art consultant for the Saskatchewan Teachers' Federation and the Saskatchewan Society for Education Through Art and as an education officer for Saskatoon's Mendel Art Gallery.

Along with Dorothy Boerma, Ann Newdigate Mills, Jo Shepherd and Betty Warnock, Russell was a founder of Shoestring Gallery in Saskatoon in 1971. The gallery continues to exist as the artist-run centre A.K.A. Gallery.

Russell's watercolour and oil paintings of the Saskatchewan landscape, inspired by her childhood travels across the province with her father, explore the subtleties of prairie light and land.

Russell's work has been exhibited in Canada and extensively in Saskatchewan in both group and solo exhibitions. Her work is represented in the collections of the Canada Council Art Bank (Ottawa), Mendel Art Gallery (Saskatoon), Moose Jaw Art Museum and National Exhibition Centre, MacKenzie Art Gallery (Regina), Kamloops Public Art Gallery, and the Saskatchewan Arts Board, as well as numerous other public, corporate, and private collections.

After retiring from teaching, Russell continued to be involved with Saskatoon's art community, and in 2002, she returned to the University of Saskatchewan campus to lead a watercolour class through the university's Extension Division's Community Arts Program.

Lorna Russell died in Saskatoon in January, 2023 at the age of 89.