Saskatchewan Artist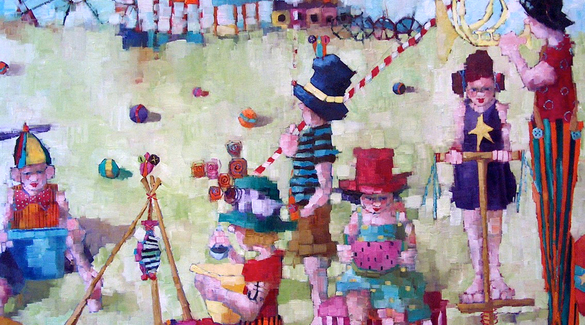 a characteristic grouping of our undisputed dominion - 2011 - by Angela Morgan
Angela Morgan
Angela Morgan was born in 1972 and grew up in Pense, Saskatchewan. She grew up near sculptor Joe Fafard and occasionally visited his studio, but wasn't inspired to pursue art until later. Morgan attended school in Regina and then began studying Business Administration at Bismarck State College in North Dakota (1990-1992), where her art instructor persuaded her to switch to art. After travels in the United States and Europe, Morgan next studied at Concordia University in Montreal, the University of Regina, and the University of Calgary. She received her Bachelor of Fine Arts degree from the University of Calgary in 2000.

Morgan's work is expressive and colourful. Her subject matter is often female characters and children, created in broad strokes using exclusively oils. Of Morgan's technique, White Rock Gallery's Dennie Segnitz says, "I love the way she uses impressionistic patchwork to portray her characters. I love it when there is an economy of stroke and it's a very simple impressionist painting and it still evokes feelings. Her characters are whimsical, usually playful, innocent, sometimes melancholy, they strike a chord in your heart."

Morgan's paintings have been exhibited across Canada and in the United States and Switzerland. Her work is part of several public collections including the Glenbow Museum (Calgary), Alberta Foundation of the Arts, Bismarck State College, University of Calgary, and Alberta Children's Hospital (Calgary).

Morgan lives and works in Fernie, British Columbia. She frequently travels in Canada and internationally.