Saskatchewan Artist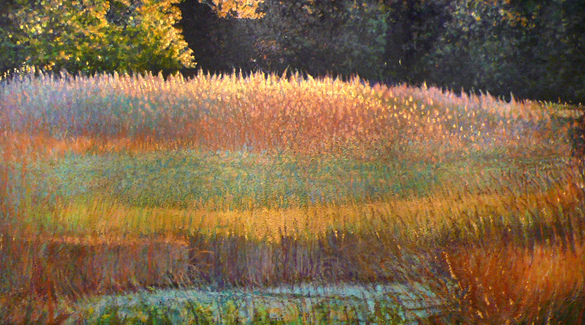 Mohegan Spirit Autumn - 2009 - by Ernest Garthwaite
Ernest Garthwaite
Ernest Garthwaite was born in Saskatoon, Saskatchewan in 1940. He studied at Loras College in Iowa, receiving his Bachelor of Arts in 1961, and at the University of Notre Dame in Indiana, receiving his Master of Arts in 1962. He subsequently studied in Europe (including in Italy, Germany, and France) and at the University of Wisconsin in 1964 and the Art Students' League of New York in 1966.

Garthwaite's career as a teacher includes experience as an instructor, professor, and visiting artist at numerous colleges in New York, including College of New Rochelle and Rye Art Center. He has also served as visiting artist at other institutions including the Art Institute of Chicago and the University of Lethbridge. From 1968 to 2004, he taught at York College at the City University of New York, initiating the fine arts department there.

Garthwaite's paintings, documents of various North American landscapes that focus on environmental themes, have been exhibited in the United States and Canada since 1959. Garthwaite's early years on the prairies helped to shape his interest in the land, and his training encouraged his explorations of art as a medium for raising awareness of political and ethical concerns. In addition to his painting, Garthwaite has worked in film and combines painting with sculpture and sound, and many of his works incorporate gold leaf or parabolic canvases. Dr. Diana Dimodica Mille, director of Walsh Art Gallery, writes of the effect of Garthwaite's work on the viewer: "The mind, heart and spirit experience the deeper meaning underlying nature. His multicultural narratives and textural layering excite our aesthetic sensibilities and leave us breathless.…Garthwaite endows each work with a fusion of paint, shaped surface and implied movement."

Garthwaite's work is represented in over 75 collections, including the Medicine Hat Museum and Art Gallery, New Rochelle Public Library, Art Gallery of Windsor, Bank of Montreal, Concordia University (Montreal), Marymount College (New York), Whyte Museum of the Canadian Rockies (Banff), and York College of the City University of New York.

Ernest Garthwaite lives and works in Old Greenwich, Connecticut.
Ernest Garthwaite
Born:

1940. Saskatoon, SK

Resides:

Old Greenwich, Connecticut US

Mediums:

Oil Painting, Sculpture, Watercolour

Website: www.garthwaitefinearts.com
Connect With Us