Saskatchewan Artist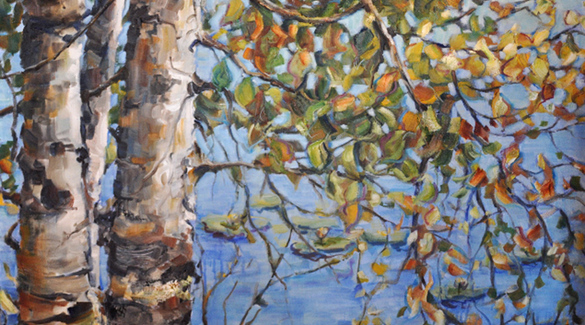 Birch Cascading Over Water - 2011 - by Kathy Bradshaw
Kathy Bradshaw
Kathy Bradshaw was born in 1961 in Port Alberni, BC. She first studied education at the University of Saskatchewan, in Saskatoon, but later enrolled in the Fine Arts program, studying with artists including Robert Christie, Graham Fowler, Clint Hunker, and Terry Billings. After receiving her Bachelor of Fine Arts degree in 2005, Bradshaw has continued her studies through participation in workshops, including those at Emma Lake, with artists like Degen Lindner, David Alexander, and George Glenn, among others. In 2012-13 Bradshaw was awarded a year-long mentorship with Clint Hunker, through CARFAC Saskatchewan.

Bradshaw focuses on expressive colour and texture in her work, which can involve oils, encaustic, charcoal, and collage. She writes, "Although I work with a range of subject matters, I am most passionate about depicting the strength and beauty within prairie and northern boreal forest landscapes. With each work, I strive to convey the presence of the space before me and the character of the forms within that space. I am also fascinated with the effects of light and feed on the challenge of expressing this in my work."

Bradshaw's work has been exhibited in group and solo exhibitions in various Saskatoon venues. Her paintings are part of several private and corporate collections in Canada and the US, and one of her works is represented in the collection of Shurniak Gallery (Assiniboia).

Bradshaw has been involved in several arts organizations including the Saskatchewan Art Educators Association, Mix Artist Collective, and CARFAC Saskatchewan, and she has led encaustic workshops for individual artists and artist groups since 2005.

Kathy Bradshaw lives in Saskatoon, where she teaches visual arts at Evan Hardy Collegiate.
Kathy Bradshaw
Born:

1961. Port Alberni, BC

Resides:

Saskatoon, SK

Mediums:

Collage, Encaustic, Oil Painting

Website: www.kathybradshawart.com
Connect With Us