Saskatchewan Artist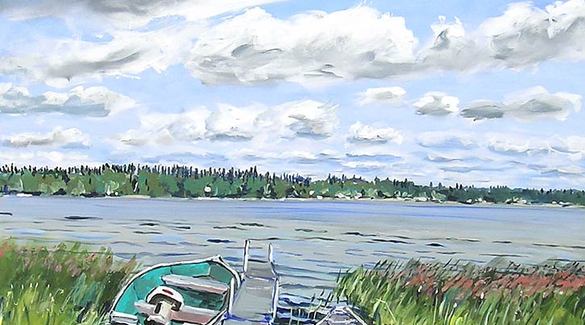 Private Dock - 2009 - by Rebecca Perehudoff
Rebecca Perehudoff
Rebecca Perehudoff was born in 1953 in Saskatoon, Saskatchewan. Raised in an artistic family — her parents are William Perehudoff and Dorothy Knowles — she, like her sister Catherine, was drawn to painting. Rebecca Perehudoff first studied law at the University of Saskatchewan, receiving her Bachelor of Law degree in 1978. She then traveled to Europe to paint and since returning to North America has taken numerous art courses and workshops. Since 1980, she has attended Emma Lake Artist Workshops with workshop leaders such as Janet Fish, Tim Hilton, Kim Dorland, and Kenneth Noland. She has also attended the Triangle International Workshop in New York (1986), the School of Art Institute (Chicago), and other institutions in Illinois, where she has lived since the late 1980s. In 2002, Perehudoff received her Master of Arts from the University of Illinois.

Perehudoff's landscape works make use of vibrant colour and thick brush strokes and are inspired by both the suburbs of Chicago where she lives and the prairies where she was raised. On her stylistic inspirations, she writes: "My work draws from different sources including renaissance composition, expressionistic brush stroke and the spiritual curiosity of the post-impressionists. The anthropomorphic quality of the plant imagery is intentional. The space is ambiguous, condensing the biological elements into one plane, creating a patterning. At the same time shadow and modeling is used to create a primitive sense of deep space."

Perehudoff's work has been exhibited across Canada and in the United States, Singapore, and Japan, and has been shown in over 50 solo exhibitions. Her work is represented in several public, private, and corporate collections, including those of the Mendel Art Gallery (Saskatoon), Saskatchewan Arts Board, Government of Canada, and the Canada Council.

Rebecca Perehudoff lives in Chicago, Illinois, but is still drawn to Saskatchewan and tries to paint in Canada at least once a year. She continues to attend workshops at Emma Lake.