Saskatchewan Artist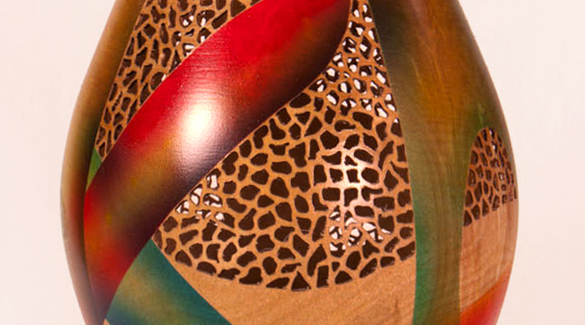 Birch Ribbon Vase - 2011 - by Rodney Peterson
Rodney Peterson
Rodney Peterson was born in 1943 in Duncan, British Columbia, but was raised in Saskatchewan. His varied career has seen him work as a construction worker, telephone lineman, rail line worker, market gardener, and taxi driver, among other professions. After receiving his Bachelor of Education from the University of Saskatchewan, Peterson spent 29 years teaching physics.
As a woodturner, Peterson is self taught. He is inspired by the Boreal Forest around his Nipawin, Saskatchewan home. Peterson writes, "The laughing streams, silent forests, camouflaged wildlife, and echoing storms have inspired me to express my joy of living in this awesome environment." Peterson has exhibited his work at various Saskatchewan shows, including those of the Saskatchewan Craft Council, of which he is a member of the board. He has also participated in the Prince Albert Wood Turners Guild, the Nipawin Art Club, and the Nipawin Camera Club.
Rodney Peterson lives in Nipawin, Saskatchewan and collects raw materials for his art from the Boreal Forest around his home.