Saskatchewan Artist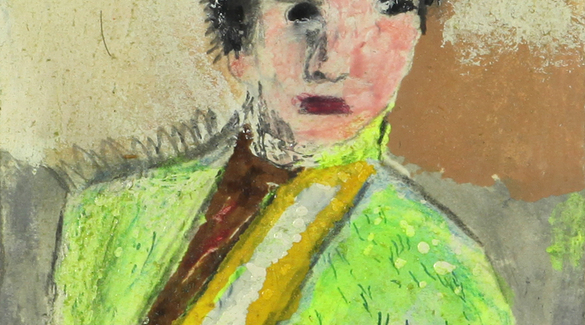 Oloscandra Mydra - 1985 - by Dmytro Stryjek
Dmytro Stryjek
Dmytro Stryjek was born in Lanivtski, a village in western Ukraine, in 1899. After serving in the Ukrainian Army, where he was trained in producing identification sketches from memory, he immigrated to Canada in 1923. Settling near Hafford, Saskatchewan, Stryjek gained employment with the Canadian National Railway, where he worked for 38 years.

During his time at the railway, Stryjek made small ink and pencil portraits, but it wasn't until his retirement that he began to create the paintings for which he is best known. He moved to Saskatoon in 1967, and there Stryjek began to exhibit his work. Many of his paintings were inspired by religious imagery, particularly that of the Ukrainian church.

His work was included in a 1975 exhibition at the Mendel Art Gallery (Saskatoon, "Saskatchewan Primitives") and at "Ukrainian Themes: Four Folk Artists" at the Shoestring Gallery (1979). He further gained attention as an exhibitor at the Saskachimo Exposition (1975-1979). In 1988, the Thunder Bay Art Gallery organized "Stryjek: Trying the Colours," a touring exhibition.

Stryjek's work is represented in the collections of the MacKenzie Art Gallery (Regina), the Glenbow Museum (Calgary), the Ukrainian Museum of Canada, Saskatchewan Arts Board, Winnipeg Art Gallery, Canadian Museum of Civilization (Quebec), Dunlop Art Gallery (Regina), and the Canada Council Art Bank.

Dmytro Stryjek died in 1991, in Saskatoon, Saskatchewan.
Original artwork by Dmytro Styjek is available for purchase in our online NACmarket
Dmytro Stryjek
Born:

1889.

Died:

1991. Saskatoon, SK

Mediums:

Oil Painting
Connect With Us