Saskatchewan Artist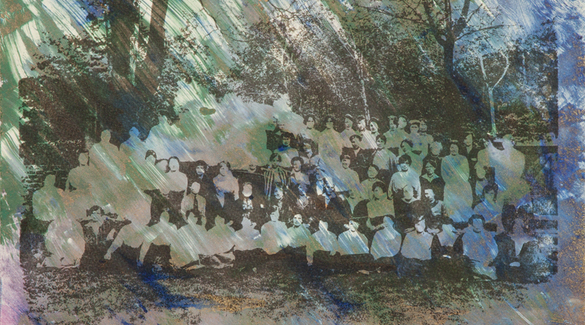 Annual General Meeting of the International Womens Tightrope Walker Association - 2011 - by Caitlin Mullan
Caitlin Mullan
Caitlin Mullan was born in 1985 in Toronto, Ontario, but came to Regina, Saskatchewan when she was still one year old. As a child, she was inspired by the photography and watercolour paintings of her mother, who encouraged Mullan to pursue studies in art. Mullan went on to major in Print Media at the University of Regina, completing her Bachelor of Fine Arts in 2011.

Mullan has worked in administrative or curatorial capacities with the Art Gallery of Regina, the Fifth Parallel Gallery, and the Royal Saskatchewan Museum, in addition to numerous positions at the University of Regina during her studies there. It was also during her time as a student that Mullan met classmates Michelle Brownridge, Amber Dalton, and Karli Jessup, and together these artists formed the print collective Articulate Ink in 2010.

In her printmaking work, Mullan explores themes of memory, history, and interconnectivity. Snippets from her collection of vintage books, photographs, and magazines often appear in her work. Mullan has exhibited in Regina and Saskatoon since 2009, including the 2011 Dunlop Art Gallery Sherwood Village Branch exhibition "Press - The Work of Articulate Ink." Her work is in the Print Media Archives and the Archives and Special Collections at the University of Regina.
Mullan, along with the other members of Articulate Ink, has been featured as a Saskatchewan NAC Artist of the Month in 2012.

Caitlin Mullan is currently the director of Articulate Ink. She lives in Regina.
Caitlin Mullan
Born:

1985. Toronto, ON

Resides:

Regina, SK

Mediums:

Drawing, Photography, Printmaking, Watercolour
Connect With Us