Saskatchewan Artist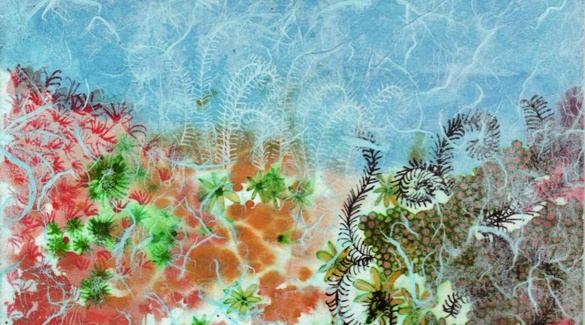 Metropolis - 2011 - by Faith Logan
Faith Logan
Faith Logan was born in 1986 in Regina, Saskatchewan. Her interest in art has been lifelong, as she began drawing at the age of two. Logan majored in Drawing at the University of Regina, completing her Bachelor of Fine Arts in 2010. During the same year, she curated an exhibition at the University's Fifth Parallel Gallery.

Logan has worked in printmaking, drawing, paper-cutting, and collage. Her recent series of drawings and paper-cut work, "Reef," explores the mystery and fear that the ocean inspires. She writes, "Depicting the ocean's creatures and habitats is a way for me to immerse myself in feelings of fear and fascination with its unknowable vastness... In understanding this small portion of the wide, wild ocean, I transform a small portion of my fear into respect and wonder." Logan's work has been exhibited in several group shows as well as two solo exhibitions at Regina's Fifth Parallel Gallery and Hague Gallery. Her work is part of the Print Media Collection of the University of Regina.

Logan is an associate member of Regina print collective Articulate Ink and has also been a member of CARFAC and the Art Gallery of Regina.

Faith Logan lives in Regina, Saskatchewan.
Faith Logan
Born:

1986. Regina, SK

Resides:

Regina, SK

Mediums:

Collage, Drawing, Printmaking
Connect With Us