Saskatchewan Artist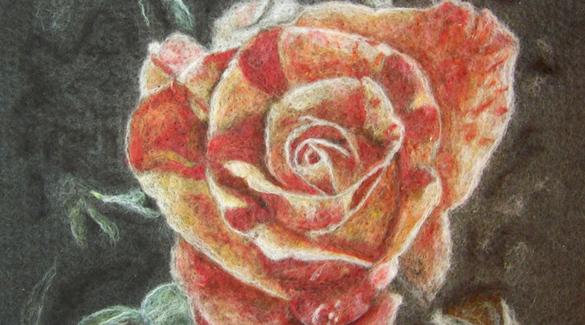 Rose - 2011 - by Hedi Gossweiler
Hedi Gossweiler
Hedi Gossweiler was born in 1955 in Switzerland, where she grew up on a dairy farm. Gossweiler studied at Switzerland's College of Arts and also studied fashion design, sewing, and knitting before coming to Canada in 1981 with husband Max Gossweiler. They settled in Herbert, Saskatchewan and together have operated the Lone Eagle Motel and Campground since 1983. The couple bought their first alpacas in 1997, and the following year, their alpaca fibre fashion business, Alpaca Expressions of Canada, was created. The business is today the largest producer of alpaca products in Saskatchewan.

Gossweiler designs and creates alpaca fibre sweaters, scarves, hats, blankets, and other items, as well as needle-felted 2-dimensional artwork made with alpaca hair. In addition to running her own shop, Gossweiler's work has been displayed in numerous fibre competitions and has won several first place awards. In 2005, she participated in the High Fibre Exhibition at the Art Gallery of Swift Current and she exhibits annually at the Summer Salon show. In addition to her fibre work, Gossweiler does acrylic painting.

Hedi Gossweiler is a member of the Saskatchewan Craft Council. She lives in Herbert, Saskatchewan.