Saskatchewan Artist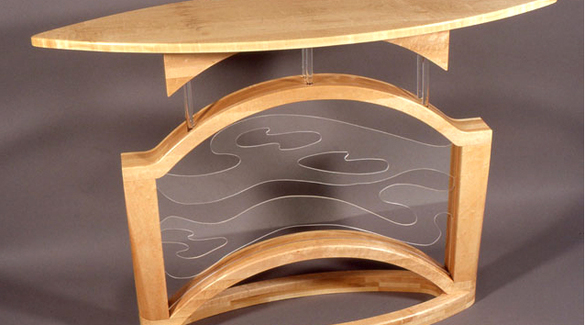 Untitled - table - by Zach Hauser
Zach Hauser
Zach Hauser was born in Lestock, Saskatchewan, in 1950. Hauser has been interested in photography since childhood, having his first photograph published at the age of 12. He studied first in Halifax at the Nova Scotia College of Art and Design with his wife, painter Iris Hauser. After returning to Saskatchewan, Hauser attended University of Saskatchewan, completing his Bachelor of Arts in 1979, before pursuing post-graduate studies in photography at Gesamthochschule Kassel in Germany from 1979 to 1980. Since then, Hauser has studied and pursued woodworking (focusing on furniture), blacksmithing, and blade-making.

Hauser's photography includes landscapes and florals as well as still-life photographs, and the mood of his work ranges from dark to humorous. His furniture work is similarly varied and includes cabinets and tables composed of wood, glass, and stone, sometimes featuring elements painted by Iris Hauser. Each of his pieces is one of a kind. Hauser has exhibited in solo and group shows since 1986 including in Saskatoon at the Mendel Art Gallery, Photographer's Gallery, and Affinity Gallery, and in Regina at McIntyre Gallery and Rosemont Art Gallery, among others.

Hauser is a juried member of the Saskatchewan Craft Council and has also been involved with CARFAC Saskatchewan and the Western Canadian Blacksmiths' Guild. He has served on the Board of Directors of the Mendel Art Gallery, and was a lecturer at the University of Saskatchewan's Department of Art and Art History from 1982 to 1990.

Zach Hauser continues to live and work in Saskatoon.
Zach Hauser
Born:

1950.

Resides:

Saskatoon, SK

Mediums:

Photography, Wood Carving

Website: www.zachhauser.ca
Connect With Us