Saskatchewan Artist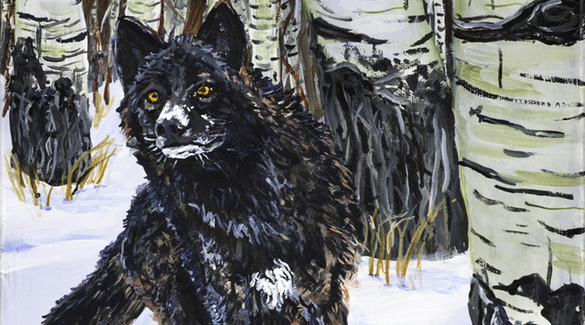 Mihegun - 2011 - by Pat Bliss
Pat Bliss
Pat Bliss was born in 1957 in Prince Albert, Saskatchewan and grew up on a farm west of the city. Bliss' interest in art began in his childhood and was encouraged by his mother, Vera, who was an artist. Bliss was drawn to a variety of mediums as a child and teenager, including sketching, painting, and paper-mache sculpture. Still, it wasn't until Bliss was in his 40s that he had time to seriously pursue his art.

Since then, Bliss has taken part in art classes and workshops, including a watercolour workshop with Graham Flatt and summer workshops with George Glenn. Choosing acrylics as his primary medium, Bliss is inspired by his love of the land and prairie history. Recent work often focuses on horses.

Bliss found his first exhibition opportunities with the Kyla Art Group and has shown for several years at their Show and Sales at the Mann Gallery in Prince Albert and at the Elk Ridge Resort. In 2011, he won the People's Choice Award at their Fall Show and Sale. Bliss' work has been exhibited in other Saskatchewan locations, including the Station Art Gallery (Rosthern) and the Mendel Art Gallery (Saskatoon). Since 2003, Bliss has taken part in the Prince Albert Winter Festival Juried Art Show. Bliss' work is part of several private collections and has appeared in Saskatchewan Government Insurance's calendar (2011).

Pat Bliss lives and works in Prince Albert, Saskatchewan. He is a member of the Saskatchewan Craft Council, CARFAC, and the Kyla Art Group.
Pat Bliss
Born:

1957. Prince Albert, SK

Resides:

Prince Albert, SK

Mediums:

Acrylic, Pastels, Printmaking, Watercolour

Website: www.graftonnorthart.com
Connect With Us