Saskatchewan Artist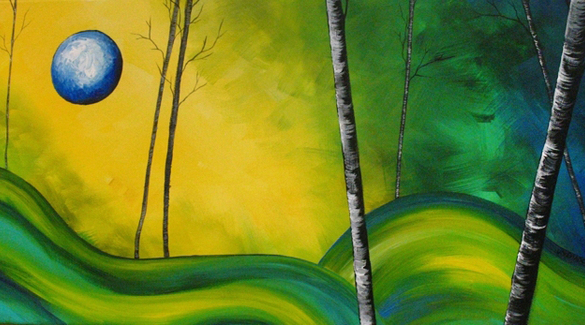 Black Birch - 2009 - by Jinny Nieviadomy
Jinny Nieviadomy
Jinny Nieviadomy was born in 1977 in Estevan, Saskatchewan. A self-taught artist, Nieviadomy studied Arts Education at the University of Regina, completing her Bachelor of Education in 2000. She went on to earn a Masters of Education Curriculum and Instruction in 2009. Nieviadomy has been teaching since 2003 at a Meadow Lake junior high school and is currently a sessional lecturer at the University of Regina's Meadow Lake campus.

A practicing artist since 2009, Nieviadomy has worked in a variety of mediums including watercolours, acrylics, and printmaking, and many of her paintings incorporate mixed media elements. Recurring subjects in Nieviadomy's work include trees, wheat fields, and ravens. Nieviadomy uses these subjects, particularly the raven, to explore her own identity. She writes: "The brush is my voice...and my art tells the stories about how I interpret the world around me."

Nieviadomy has exhibited in Saskatchewan and is a juried member of the Saskatchewan Craft Council.

Jinny Nieviadomy lives and works in Meadow Lake, Saskatchewan, where she operates the Artistic Incidents studio and community gallery space.