Saskatchewan Artist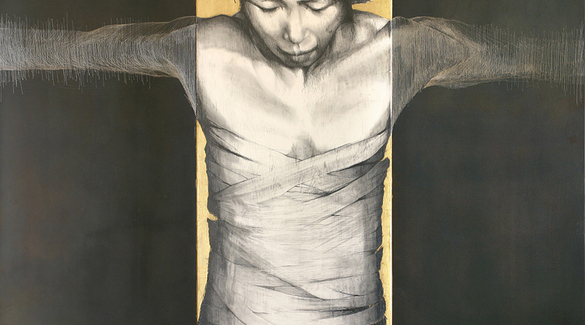 Break and Mend - 2004 - by Erica Grimm-Vance
Erica Grimm-Vance
Erica Grimm-Vance was born in Regina, Saskatchewan in 1959. She studied at the University of Regina, where she completed her Bachelor of Fine Arts in 1982, and at Simon Fraser University, where her PhD work included multimedia installations (2006). Grimm-Vance's art studies have also taken her to the Banff School of Fine Arts' Summer Scholarship Program (1980) and to the Akademie der Bildenden Kuenste in Munich, Germany (1983).

Grimm-Vance's work incorporates encaustic and steel, as well as a variety of unique materials, from PET scans to 23 karat gold and birch panel. Her installation pieces have included digital elements including film projections and interactive soundscapes. Themes of embodiment, materiality, and liminality are recurrent in Grimm-Vance's work. Of her exhibition The Body Knows, Grimm-Vance writes, "All we know is mediated through the body, making it, inescapably, the central site of meaning. I am not interested in the surface superficialities of the body but in going deeper, going inside in an exploration of states of being. My work uses encaustic layered over graphite drawings, usually of figures, and juxtaposes these figurative panels with planes of steel, gold and lead....Materials such as steel, wax, lead and gold carry meanings ranging from precious to toxic, and when paired with the figure, heighten a corporeal reading of the figure."

Grimm-Vance has exhibited across Canada and the United States in more than 25 solo exhibitions and numerous group exhibitions. She has received several awards including First Prize in the 2002 Imago National Juried Art Competition. In 2002, Grimm-Vance was the Distinguished Nash Lecturer at Campion College at the University of Regina and was also recognized as a Distinguished Alumna.

Her work is represented in the collections of the Canada Council Art Bank, Richmond Art Gallery, the Saskatchewan Arts Board, the City of Regina, and the Vatican.

Grimm-Vance has served as an instructor in the University of Regina's Extension Department (1986) and with UBC's Continuing Education Program (1987-1994). She has also taught at St. John's College in Santa Fe, New Mexico (2001, 2002) and participated in the Contemporary Artists Lecture Series at Regina's MacKenzie Art Gallery (1992). Currently, Grimm-Vance is an Assistant Professor of Art at Trinity Western University.

Erica Grimm-Vance lives in Vancouver, British Columbia.