Saskatchewan Artist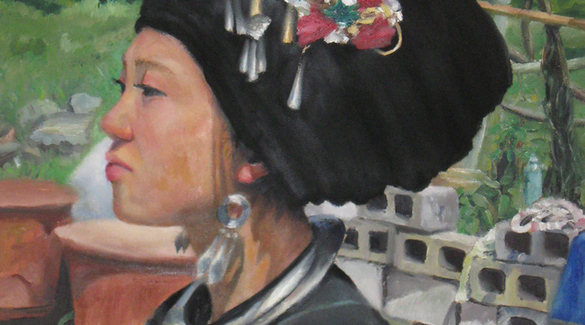 Looking Forward - 2009 - by Aaron MacLean
Aaron MacLean
Aaron MacLean was born in 1974 in Goose Bay, Labrador. Pursuing his interest in both visual art and theatre, MacLean studied at the University of Regina, receiving his Bachelor of Fine Arts in 2002. MacLean's national and international travels have taken him to countries including China, France, Spain, and Italy, and have included study at the Great Canadian Theatre Company in Ottawa and with Master Painter Woo Gyeoung in South Korea, where MacLean lived from 2004 to 2006.

MacLean's recent oil paintings depict everyday life in China, showcasing mountainous landscapes and work and leisure activities. His work has been exhibited in several group and solo shows in Regina, including the 2012 solo exhibition "Getting to the Heart of It," at McIntyre Gallery. MacLean's work is part of the Shurniak Art Gallery collection (Assiniboia, Saskatchewan).

Aaron MacLean lives in Regina, Saskatchewan.
Aaron MacLean
Born:

1974.

Resides:

Regina, SK

Mediums:

Oil Painting

Galleries: ()
Connect With Us