Saskatchewan Artist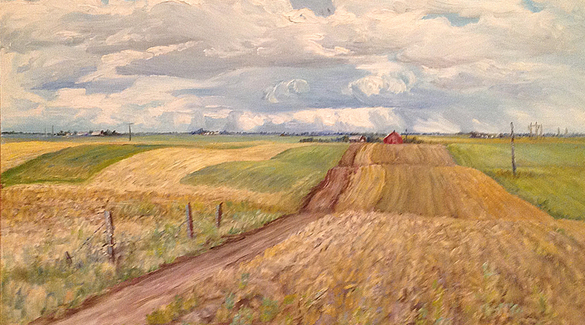 Before a Spring Storm - 1981 - by Dorothy Martin
Dorothy Martin
Dorothy Martin was born in 1909 in St. Peters, Nova Scotia, and moved with her family to Regina, Saskatchewan in 1913. She studied teaching at Regina Normal School, receiving her diploma in 1927. From there, she taught at public schools in rural Saskatchewan and then in Regina. At the same time, she pursued her artistic aspirations. She studied art at the University of Regina with Augustus Kenderdine from 1938-39, and then again in 1961-1962 with Kenneth Lochhead.

Martin then combined her interests in art and teaching, studying art education at the Teacher's College in Regina (1962) and at the University of Minnesota in Minneapolis (1964). Two years later, she took classes in ceramics and primary education methods at the University of Regina, studying with Jack Sures. She served as an art consultant for Regina's Board of Education (1963-1969), and from 1969 to 1972 instructed children in clay classes at Regina's Hone-James studio, founded by artists Beth Hone and Ann James.

Martin was a lifelong friend of painter Ruth Pawson, and they would often go on painting day-trips together, exploring the Saskatchewan countryside.

Martin's work, which was referred to in the Regina Leader-Post as "intentionally simple and direct," has been exhibited in Regina and Saskatoon since 1944. It is represented in the collections of the Saskatchewan Arts Board, Regina Public School Board, Province of Saskatchewan, several Regina grade schools, Saskatchewan House (London, England), among others, and is also part of private collections in Canada, the United States, England, and Zambia.

Dorothy Martin died in 1984, in Oak Ridge, Tennessee.
Original artworks by Dorothy Martin are currently available through our online NACmarket
Dorothy Martin
Born:

1909. St. Peters, NS

Died:

1984. Oak Ridge, Tennessee US

Mediums:

Oil Painting, Watercolour
Connect With Us