Saskatchewan Artist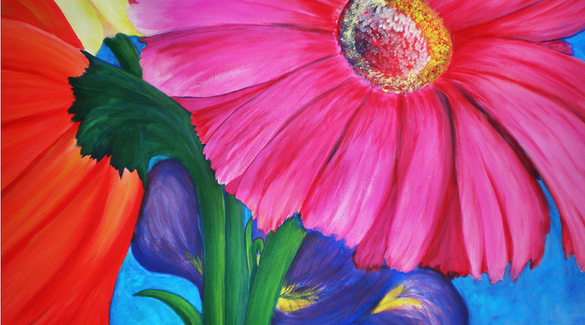 Iris Among the Daisie - 2010 - by Gail Taman
Gail Taman
Gail Taman was born in 1959 in Saskatoon, Saskatchewan. She studied at the University of Saskatchewan, completing her Bachelor of Education in 1981 and her Bachelor of Fine Arts in 1996. Taman has served as an art instructor in schools in Saskatoon and elsewhere in Saskatchewan since 1981. Taman's teaching has also included private art lessons and a variety of positions in the community, including serving as a school liaison, docent, and art instructor for the Mendel Art Gallery (1993-2001), and as an art instructor and instructor trainer for the City of Saskatoon (1987-1997).
Taman works in a wide variety of mediums, including acrylic and watercolour painting, sculpture, photography, jewelry, and installations. Her watercolour paintings incorporate the texture of the wood on which they are painted, and explore a variety of subjects, from landscapes to the human form.
Taman has exhibited in group exhibitions in Saskatoon at galleries including Snelgrove Gallery and Mendel Art Gallery, and her work was part of an Organization of Saskatchewan Arts Councils travelling exhibition from 1994 to 1996. A notable recent exhibition is 2012's "TRIO Show" at Routes Gallery in Harris, featuring Taman's body of work "ARTklectic," along with the work of Jeanne d'Arc and Emile Gaudet.
Gail Taman lives and works in Saskatoon, Saskatchewan.
Gail Taman
Born:

1959. Saskatoon, SK

Resides:

Saskatoon, SK

Mediums:

Acrylic, Sculpture, Watercolour
Connect With Us