Saskatchewan Artist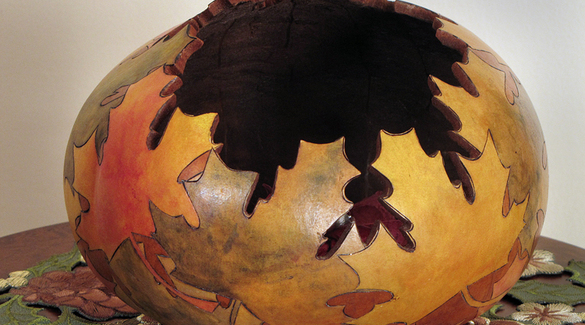 Conceive - 2010 - by Julie-Anne Wallewein
Julie-Anne Wallewein
Julie-Anne Wallewein was born in 1963 in Oxbow, Saskatchewan and grew up on a farm near Frobisher, Saskatchewan. A self-taught artist working with gourds, Wallewein has always been interested in gourds' uniqueness and "personality." Her mixed-media gourd works are similarly unique, ranging from intricately patterned vessels and abstract sculptural pieces to gourds shaped and painted as birds or objects. Leaves are a recurrent design in Wallewein's work.

Wallewein is involved in each step of creating her work, beginning with planting, growing, and carefully drying the gourds before carving and painting them. Previously having grown small ornamental gourds, Wallewein has moved on to larger varieties while contending with the limits — and frost worries — of the Saskatchewan growing season. It's a rewarding process; as Wallewein writes, "Beginning with a seed packet and ending with a finished piece takes time and patience, but comes with a sense of pride and accomplishment to have completed the whole cycle."

Wallewein's work has been exhibited through the Saskatchewan Craft Council's shows "Root, Branch, Flower, and Twig" and "Seeds" at the Affinity Gallery in Saskatoon and is consigned in Regina at the MacKenzie Art Gallery Gift Shop and at Rumour Handcraft. Wallewein is a juried member of the Saskatchewan Craft Council.

Julie-Anne Wallewein lives in Estevan, Saskatchewan.