Saskatchewan Artist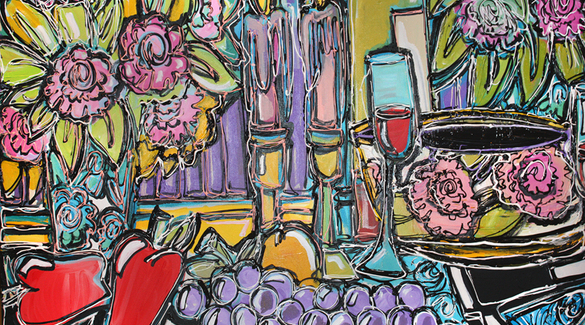 untitled - 2009 - by Jason Robins
Jason Robins
Jason Robins was born in 1982 in Regina, Saskatchewan. Interested in art from a young age, Robins was commissioned to create a painting for then-Governor General Adrienne Clarkson as a gift when she visited his high school. Formal art studies took Robins to Vancouver in 2000, where he attended the Emily Carr Institute of Art and Design and the Blanche Macdonald Centre for Applied Design. He received both a Fashion Design Diploma and a Fashion Merchandising Diploma from the latter institution.

Robins works in a variety of mediums, including acrylics, textiles, painting on furniture, clothing, shoes, and other objects, ceramics, and murals. Bold lines and colours characterize his work, much of which is commissioned and is part of private collections in Canada, the United States, South Africa, Hungary, China, and Hong Kong. Robins has exhibited at the joe moran gallery (2000, Regina), Agora Gallery (2002, New York), the Centre of the Arts (2002, 2003, Regina), and Cumberland Gallery (2007, 2011, Regina). Robins has also painted numerous public murals in Regina, particularly in the downtown area.

Robins' work has supported the initiatives of a variety of charities, including the Regina Food Bank, Power of Pink Breast Cancer, Sophia House, Habitat for Humanity, and the Make a Wish Foundation, among others.

Jason Robins lives in Regina, Saskatchewan.
Jason Robins
Born:

1982. Regina, SK

Resides:

Regina, SK

Mediums:

Acrylic, Ceramics, Murals, Textiles
Connect With Us